Academy Philosophy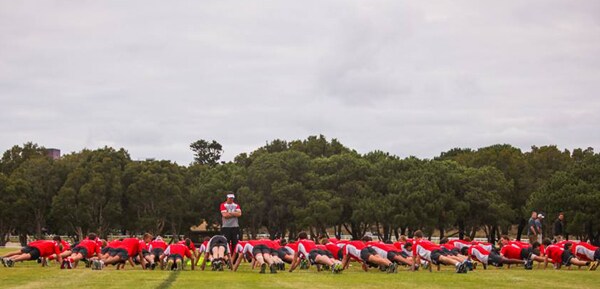 We are committed to providing a positive, exciting and nurturing environment that will allow each and every boy an opportunity to explore and fulfill his potential.
We take a long-term approach to each boys' development. It takes approximately 10 years to become an AFL footballer, and our programs are devised with this in mind.
Any parent knows that the physical attributes of children are highly variable throughout adolescence. Indeed, the attributes that are most important for success in AFL may not fully show themselves until 18 or after. Therefore, "selecting" boys at too early an age, or strictly limiting the numbers of boys selected would mean a large part of the potential talent pool would be excluded.

The QBE Swans Academy will provide a consistent program which will build across the age groups. Our philosophy will be one of long-term development, and will take into account the fact that boys will grow and progress at different rates.
Our program will be guided by the demands of the modern game, both from a physical conditioning perspective as well as in terms of the skill and decision-making requirements. This program will evolve as the game itself develops.
Studies of sporting "experts" show they participated in a number of different sports until the age of around 14, and their practice involved informal "play" activities as well as formal training.
Our program at the Swans will apply this knowledge by:

• Providing a consistent number of formal AFL practice hours across the year for all Academy players.
• Encouraging participation in other sports during growth and development.
• Employing coaches with the knowledge and passion to develop young AFL footballers.
• Sourcing facilities appropriate in standard and location.
Just as importantly, boys will have the best chance of reaching their full potential if they are motivated to undertake practice away from the club – for example kicking and marking with friends, or learning from watching AFL games.
It is not the role of the Academy to tell boys where they should be playing their club football. We consider that is the role of each and every family to decide.
However we do have an Academy philosophy on this issue.
The Swans Academy sees Club football as very important to each boy's development and boys should continue playing with their local junior club, no matter the standard or what division the team is in.
Boys will take part in highly competitive games in the Academy Cup and there is no need for them to change junior clubs at any stage.
Training: Our ideal model is that boys train with the Academy twice a week, and also train with their club at least once a week.
Games: We want boys to play each week during the season for their club, and then play Academy games when required. We believe this will give the boys the best chance to develop into AFL players.

If boys want to play club football on both Saturday and Sunday you can apply for an Academy permit to facilitate that.
There is NO reason from an Academy point of view for boys to change clubs.