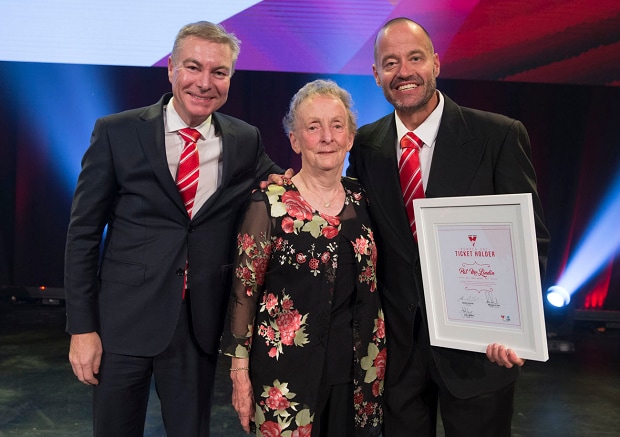 Pat McLindin, Sydney's No 1 in 2017

Supporting the Sydney Swans is more than just a passion for new number one ticket holder Pat McLindin – it's a way of life.
McLindin's devotion to the football club – 28 years as a member – is not only on show every home game during the season, but it's largely underpinned by the power of work she's done in her home town of Canberra.
You'll often see the softly spoken Swan occupying her reserved seat at the SCG, shrugging off any weariness after the two-and-a-half hour drive up the Hume Highway.
There are even times when she'll make interstate trips; the five-hour flight to Perth and journey to the often-hostile Subiaco is not even a deterrent.
Back home, Pat fronts the ACT Swans Supporter Group and has put bottoms on seats by the busload for the past decade so her "family" can see their beloved team play.
Even those who barrack for the opposition are welcomed aboard.
"It's a huge part of my life," McLindin said.
"I don't know what I'd do without it."
The devoted Sydney member puts together weekly newsletters to update members on everything from purchasing tickets to dates of local events and any news and views about the Club.
Fundraising is also central to McLindin's role, with money raised donated to the Sydney Swans Foundation.
There's no better example than the "sponsored by ACT Swans" label proudly displayed above the No. 3 and No. 23 lockers.
Her willingness and dedication has been key to the Sydney Swans' brand growing in the nation's capital while McLindin's influence rubs off on anyone who has the pleasure of meeting her.
| | |
| --- | --- |
| Sydney Swans number one ticket holders | |
| Peter Weinert | until 2008 |
| Mal and Louise Binnie | 2009 |
| Trevor and Ailsa Bidstrup | 2010 |
| John and Loretta Cloney | 2011 |
| Philippa Power | 2012 |
| Paul McMahon | 2013 |
| Peter and Maree Thomas | 2014 |
| | |
| --- | --- |
| Duncan McPherson | 2015 |
| Adam Spencer | 2016 |
| Pat McLindin | 2017 |