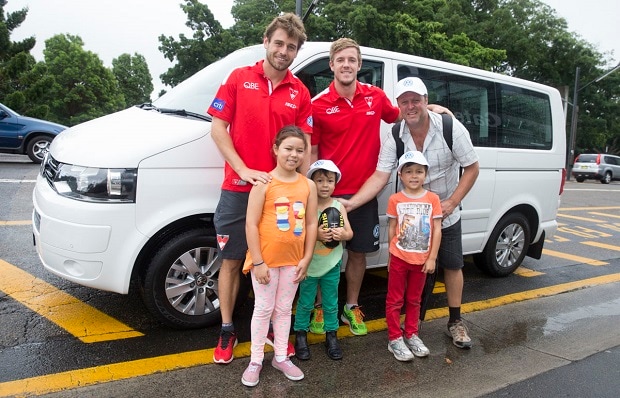 Win a ride with Swans players to Fan Day thanks to Volkswagen!
The 2017 season is just around the corner and that can mean only one thing: the Sydney Swans Fan Day, presented by Volkswagen is almost here.
Thanks to our Major Partner Volkswagen, you and three of your best mates can win a ride to the big day in Melbourne on Saturday 1st April with two current players in a Volkswagen.
All you have to do is fill in the form below and answer the following question in 25 words or less:
The Volkswagen range features the latest technology, what technology do you love in your vehicle and why?
Enter now.
* Sydney competition closes 5:00pm (AEDST) on Tuesday 28 February 2017.
* Melbourne competition closes 5:00pm (AEDST) on Tuesday 28 March 2017.
** Click here for the full terms & conditions.
Your information is used to conduct this promotion and may be disclosed to service providers and authorities as required. We may also use your information for our own marketing purposes and as set out in the terms and conditions. If the information is not provided you cannot enter. Our Privacy Policies Volkswagen and Sydney Swans contain details on how information is used, how you may access/correct information held and our privacy complaints processes.