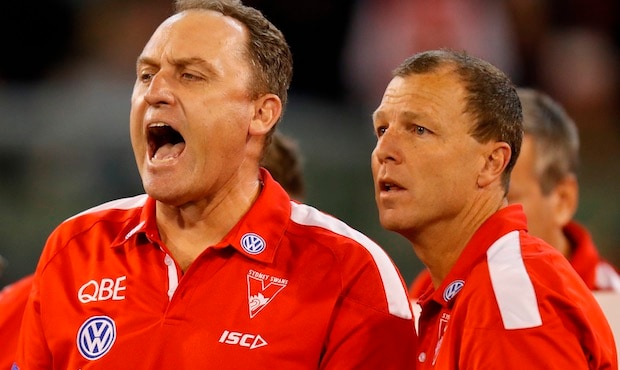 John Blakey joined the Sydney Swans in 2006 and has since held several roles within the ever-evolving coaching panel.
Following a stellar playing career spanning 359 games with Fitzroy (1985-1992) and North Melbourne (1993-2002), with an honour roll as good as the best to ever play the game, Blakey wasted no time in putting his expertise to the test after Leigh Matthews and reigning premier Brisbane lured him back north to be an assistant coach.
He tasted immediate success as the Lions went about claiming the 2003 flag, their third on the trot, in what was a golden era for the Brisbane Lions Football Club.
Blakey spent another three years at Brisbane, stepping up in the absence of Leigh Matthews (illness) as head coach for one game in 2005, before an opportunity knocked alongside his former Roos teammate and good mate John Longmire at the Sydney Swans.
He's overseen almost every area of the ground as an assistant coach during his time at the Swans. Most notably, the dual-premiership defender was one of the masterminds behind constructing what has become one of the best backlines in the competition.
At the end of 2015, Blakey was appointed Coaching Director and Head of Development where - under his guidance - Rhyce Shaw flourished as coach of the NEAFL Swans and mentor (alongside Nick Davis) to the Club's emerging talent pool.
In 2018, he'll work closely with newly appointed development coaches Tadhg Kennelly and Jeremy Laidler in guiding the NEAFL Swans and development squad.