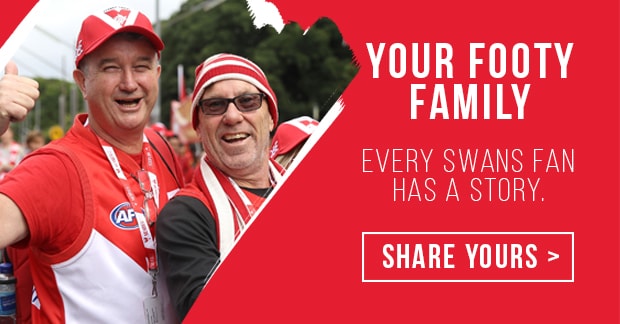 It's not just our players who have unique stories about how they came to be at the Sydney Swans - it's also our members and supporters.
Every Swans fan has a story, and we want to hear them.
Whether you sit in the Brewongle Stand or the MA Noble, support the club from one side of Australia or the other side of the World, come to 11 games a year or come to one – we all have a special story about how we came to support the Swans and who we share that experience with.
Your Footy Family is a forum for Swans fans to tell the club about how they came to be a part of the Swans family, and about the people that have helped shape that experience - whether it was someone who inspired you to support the club, the people you go to the footy with every weekend or a person that you have had the pleasure of growing closer to through your common love of the Swans.
To tell the club about Your Footy Family, complete the form below, send an email to swansmembership@sydneyswans.com.au or pick up the phone and call one of our team on 1300 663 819 – we'd love to hear from you.