Swans premiership players Adam Goodes, Ted Richards, Nick Smith and Marty Mattner have all resumed training following injury-interrupted starts to their pre-seasons.
Swans physiotherapist Matt Cameron said club co-captain Adam Goodes, who injured his posterior cruciate ligament during the Grand Final, has returned to the track in the New Year and has begun running and conditioning programs.
"Adam's had a bit of a layoff because of hurting his knee in the Grand Final and that's taken some time to settle down, but he was able to start running before Christmas and he's done a bit over the break and now he's really moving into the conditioning side of things," Cameron told SwansTV.
"Over the next few weeks we'll increase his running and then determine when he's going to start skills training, which won't be for a few more weeks yet."
After a delayed start to the pre-season, All-Australian defender Ted Richards has returned to full training having recovered from an ankle injury which he suffered late in the 2012 campaign.
Cameron said Richards used his recent two-week break to make up lost ground.
"Ted was able to start skills training just before the Christmas break and was able to catch up to the rest of the group over the break," he said.
"He's really doing full skills now and his ankle is feeling great."
Nick Smith and Marty Mattner both hit the treadmill for the first time this week after injury held them back from the start of pre-season training.
Cameron said the club had taken a cautious approach with Mattner, who finished the 2012 season with hip-joint pain, while Smith was recovering from cartilage damage in his knee.
"Marty had some hip-joint problems and we've decided to wait a good three months since the end of the season before he started to run again just to allow things to calm down and to give him a good chance to get through the season," Cameron said.
"Nick Smith had some knee pain at the end of the year and unfortunately had to have a scope a few weeks after the end of the season, which showed he had some cartilage damage, which meant that he needed to wait and not run for a good six-to-eight weeks.
"He's just started to run again on the treadmill now, which is good."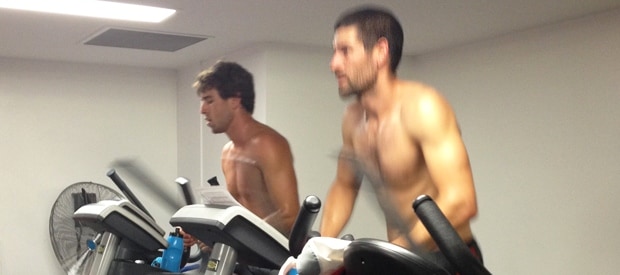 Nick Smith and Marty Mattner are back running on the treadmill this week
Swans forward Gary Rohan also returned to the track for the first time on Monday morning, with the 21-year-old completing four five-minute runs around Lakeside Oval.
Cameron said the Swans medical team were pleased with Rohan's progress over the last three months.
"He's been running for quite a while on the treadmill inside but he's now ready to get out here in the fresh air and he went well," Cameron said.
"He looked good, no limping and he's happy, and everyone is happy to see him out there."