Sydney Swans stars Kurt Tippett and Nick Smith teamed up on Monday to help promote the importance of a healthy lifestyle through the Volkswagen Swansfit Program.
Sawtell Public School was the latest in long line of schools to welcome Swans players into their grounds to help teach kids about the benefits of being active - whether it's running around in the school yard, in the backyard at home or taking up a sport at your local club. (preferably footy!).
The importance of eating well, consuming plenty of vegetables while staying hydrated, was also at the top of the agenda.
After the a special assembly, where the boys answered questions from kids, the duo led the group out to the oval where participants completed a series of drills including agility poles, hurdles, handballing and kicking.
Tippett said getting the kids outdoors and moving is what the program is all about.
"It's great to be down here at Sawtell Public School," he said.
"Rolling out this program has been great, teaching kids how to be fit and healthy as well as what we like eating as athletes, staying hydrated and getting plenty of sleep."
The visit is part of the Sydney Swans' broader three-day training camp in Coffs Harbour on the back of Sunday's JLT Community Series clash with North Melbourne.
"We love coming to Coffs," Tippett added. "We've been coming here for a number of years now, we've got great support here. I think the boys really love getting away and breaking (the pre-season) up."
Each participant received a special Volkswagen Swansfit footy to take home.
To read more about program or to register your school, visit the Volkswagen Swansfit webpage.
Nick Smith directs his group at Monday's Volkswagen Swansfit session.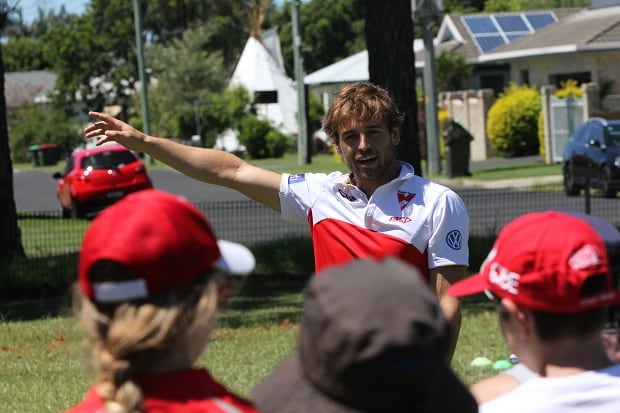 Kurt Tippett was a popular figure among the kids.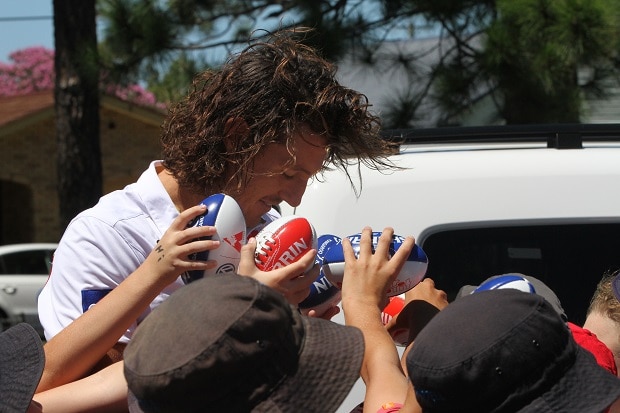 Thanks Sawtell Public School for a great afternoon!