Throughout the 2017 season we are going to bring you a number of recipes from Sydney Swans chef Courtney Roulston.

We will bring you a different recipe each week from Courtney involving a lot of what the players eat on a weekly basis.
BANOFFEE CHIA PUDDING WITH DATE CARAMEL & ANZAC CRUMBS
SERVES 4-6
Ingredients
2/3 cup chia seeds
2 cups soy milk
1 x 400ml can coconut milk
1Tb maple syrup
1tsp ground cinnamon
1 banana, peeled and sliced
½ Greek yoghurt *optional
4 Coles gluten free Anzac biscuits, crumbled
Date caramel:
10 fresh medjool dates, chopped
1/3 cup maple syrup
1tsp vanilla bean paste
2 tablespoons warm water
For the chia pudding, place the chia seeds, soy milk, coconut milk, maple syrup and cinnamon into a large bowl. Stir well to combine, cover and refrigerate for 4 hours, or overnight.
To make the date caramel, place the dates, maple syrup, vanilla and water into a small food processor and blend until smooth.
To serve, divide the chia pudding amongst serving glasses or bowls. Top with the sliced banana, yoghurt, a drizzle of the date caramel and scatter over the Anzac crumbs. Enjoy!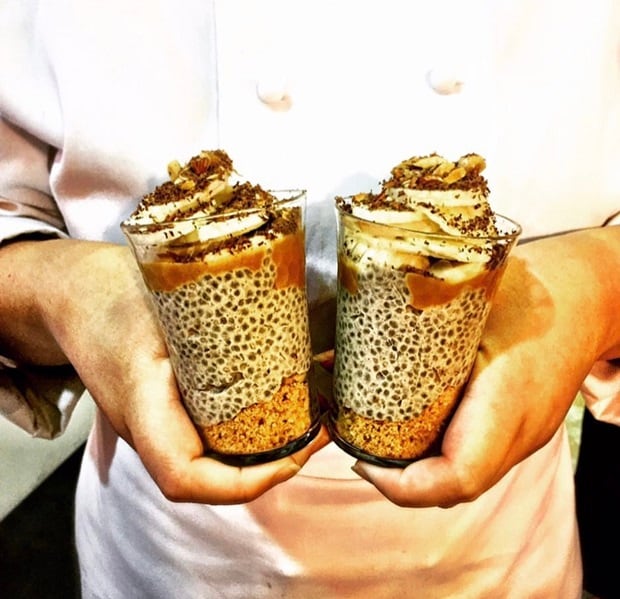 Courtney Roulston caters for the Sydney Swans on a weekly basis cooking for the playing group during their busy schedule. Courtney first rose to fame after competing in Series 2 of Masterchef (2010). To learn more about Coutney head to here Instagram page here.