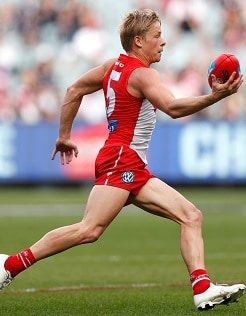 Sydney can use its win over the Brisbane Lions to kickstart its season, according to star midfielder Isaac Heeney.
The Swans powered to their first win of the season last Sunday, beating the Lions by 54 points.
The win also lifted them off the bottom of the ladder following a dreadful start to their 2017 campaign after last year's Grand Final appearance.
Heeney, who missed the first month of the season after battling glandular fever, gathered 22 disposals and kicked a goal last week and is adamant much optimism can be taken from the win.
"We can definitely get a bit of confidence out of that win," Heeney told RSN on Wednesday.

Heeney's quick rise has made him one of the Swans' most important players, despite only entering his third season and with just 41 games under his belt.
His absence was costly for the Swans, but the 21-year-old said it has been difficult to pin down why the side has struggled so far this year.
"After round five we sat down and a couple of us went out for lunch and we looked at each other and were like, 'What is actually going on?'
"Compared to last year it was a completely different season and different feeling. You have to look at it week to week and play your role for the team.
"You can't be too flat and you can't be too shocked. You just have to get on with it."
Despite the Swans' predicament – they became the first team in history to make the previous year's Grand Final and then lose the opening six games of the next season – the club hasn't given up on making the finals this year.
Heeney said coach John Longmire has remained positive throughout the jittery start to the year, with the Swans also blooding a raft of youngsters.
"Horse has been pretty honest, and some meetings have been pretty brutal, but there's always been happiness and there's never been a really flat vibe around the club," he said.
"There was always [a view that] next week we can change things around – and it obviously lasted a bit longer than we expected – but the way Horse deals with things is unbelievable.
"There were some pretty honest chats, that's for sure."