The Sydney Swans welcomed a special guest to the SCG when six-year-old Millar Munro watched on as his hero Lance Franklin stepped up to help the Sydney Swans defeat Brisbane in Round 7.
Millar, who is a huge Swans fan, was diagnosed with aggressive brain cancer in late 2016 and has since spent every day at Sydney Children's Hospital in Randwick.
After the Club was notified by doctors, Rhyce Shaw, James Rose and Millar's favourite player, Buddy, went to visit him and his family. Millar's teddy bear, Franklin, was also very excited to meet the man he was named after.
When doctors granted Millar leave from the hospital for a day, there was only one place he wanted to go – the SCG. With the help of the Sydney Cricket & Sports Ground Trust, Millar and some of his closest friends and family got the VIP treatment in a private suite to watch the big win over the Lions.
He was also joined by some new friends during the game when Alex Johnson, Ted Richards, Mike Pyke and Shaw dropped by for a visit.
Franklin put on a show for his new mate Millar, highlighted by a 70-metre bomb which was kicked right in front of Millar's suite in the MA Noble Stand. Millar was even happy for Buddy to go one better than his own personal goal tally record of seven, kicked for his local club the Moore Park Tigers.
"We had such a great view of the entire ground and we were so overwhelmed by the generosity of the Sydney Swans and the SCG Trust," Millar's father, Richard Munro said.
"We honestly were expecting a few seats, not an air-conditioned suite. It was a bonus at half time when Millar's best friend, Joey, from the Moore Park Tigers, played as well."
Millar and his family have been supported by the Swans' official charity partner, Redkite, throughout his time in hospital.
"From the moment Millar was admitted to hospital last September, Redkite were there for us with a lovely care pack and supported us while we were facing the worst challenge of our lives," Mr Munro said.
"We are will be forever grateful for the wonderful work the Swans family do to support this great cause."
Millar and his family have gained a lot of admirers at the Club and we are very lucky to have them as part of the Sydney Swans family.
Redkite is an Australian cancer charity providing essential support to children and young people (0–24 years) with cancer, and the family and support network who care for them. Click here to learn more or to donate today.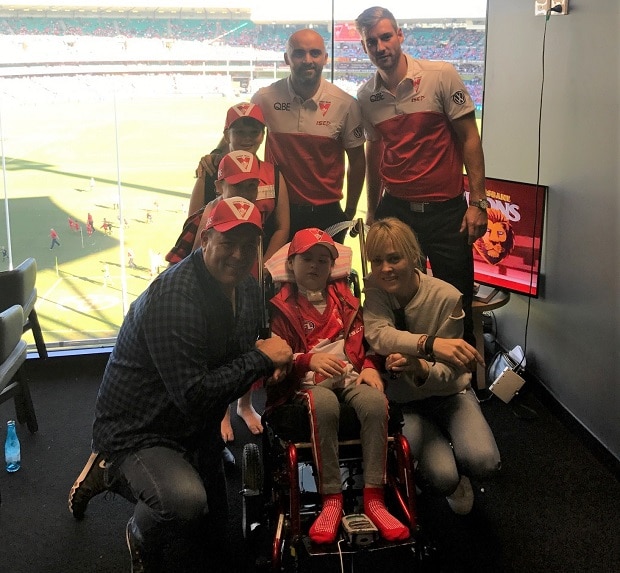 Rhyce Shaw and Alex Johnson visit the Munro family at their M.A. Noble Stand suite during the Swans' Round 7 clash with Brisbane.