It is easy to laugh about it now.
In fact, Dane Rampe has laughed about it ever since that bizarre morning outside the front door of the Sydney Swans' SCG headquarters.
Despite coming off second best in a freak training mishap, in which the defender broke his arm after tripping over a chained barrier during a routine run around Centennial Park, an injury which sidelined him for seven of the first eight rounds of the season, the only thing left to do was put it aside and get on with it.
That's really the only way Rampe knows how to deal with setbacks like that.
"While it wasn't ideal and a horrible thing to happen and while it couldn't have come at a worse time given the injury list we had, but if you can't laugh at it then you'll only drive yourself crazy," Rampe said.
"I did have a sook to myself the first night, but after that there wasn't any energy wasted on feeling sorry for myself.
"You only have to look at blokes like Alex Johnson who's been dealing with his injury for four years before you're shut up pretty quickly.
"I had nothing to complain about in the wider scheme of things and I think that helped me recover that little bit quicker."
Rampe, who will line up for his 100th game today against St Kilda, was a picture of durability and consistency before his lengthy lay-off.
The 26-year-old, who was drafted as a mature-age rookie in 2013, had only missed two senior games since his debut and before his tumble. He was sent back to the NEAFL for a couple of weeks after his first taste, in Round 1 that same season, before earning another recall, never to miss again.
So, it was rather foreign for the All Australian to spend so long on the sidelines, his fending arm in a sling, then in some Terminator-inspired contraption as it slowly healed, languishing in the stands while his side languished on the bottom of the ladder with a winless record after six rounds.
It was frustrating, to say the least, but the boy from Clovelly learned a lot about himself during this time, paying extra attention to his former skipper Jarrad McVeigh, who was dealing with his own injury worries before his, albeit short-lived, return in recent weeks.
Rampe learned how to stay in the frame, as a teammate and as their vice-captain, despite spending most of his time in 'the dungeon' – rehabilitation room – on the bike and treadmill or on the wrong side of the boundary line at the SCG running laps while his comrades got to work in the middle, moving that footy around like no tomorrow and talking tactics preparing for the weekend's task.
If you've ever been to an open training session or listened closely on game day, the No. 24 is often the loudest voice on the park. In his role in defence, it's imperative. He's become the Swans' traffic controller, much like McVeigh has been for so much of his 289-game career.
As one of three new vice-captains, his voice and direction and leadership was meant to take on a whole new meaning this season. It still has, but even Rampe finds it hard to argue against the difficulty of having the same or desired impact when you're not playing.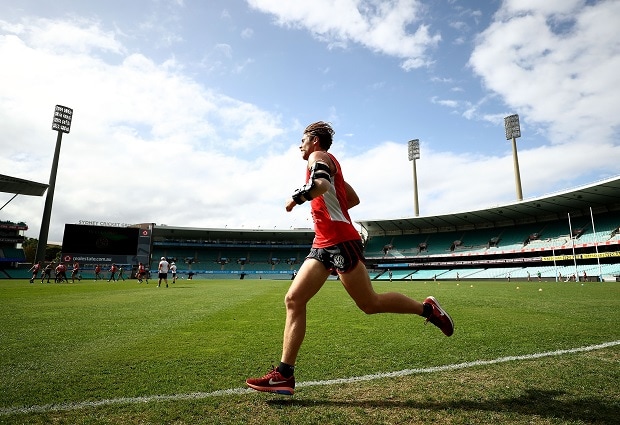 Dane Rampe, with his arm in a brace, is restricted to running laps at the SCG.
"While it has been frustrating to watch on from the sidelines, I wouldn't say it was a blessing but I was able to experience everything from a different perspective, from the other side of the fence whether that be in the coaches box or sitting with teammates in the stands. It gave me a different look and I learned a lot from my time away from the playing group," Rampe explained.
"Macca (McVeigh) and I were also in a unique situation of being removed from the form slump or inconsistencies in performance that some of the other leaders were experiencing.
"We took that opportunity to try and rally the troops in our own way, and reinstall in our leaders what they're good at and just try to implement what we know to get them back playing the sort of football we all know they're capable of."
Rampe admitted, especially with his side being in such a precarious position, that there were times to speak up and times when silence was your best friend.
"There's a fine balance," he said.
"I've learned that you can overdo it, especially if you're not out there with them, so it's about picking your battles.
"Hopefully I can keep learning from the experience and growing as a leader."
What would warm the heart of any red and white follower is that Rampe is confident he's returning "a better, well-rounded player."
If that's so, his inclusion couldn't have come at a better time with the Swans looking to turn their season around.
Much like himself, the All Australian defender believes the Swans are just getting started and he's looking forward to using his pent-up energy to help his team maintain its winning ways.
"The ability is there, we just need to put it together on game day," Rampe added.
"Maybe we fell into the trap of looking too far ahead because we there's a genuine excitement and belief within our group.
"What we've seen in the last couple of weeks is that we've started playing for each other and playing for the jumper again – and that's putting us in good stead.
"That's going to be our focus and I'm very confident if we can do that everything will take care of itself."
Now that's something we can all smile about.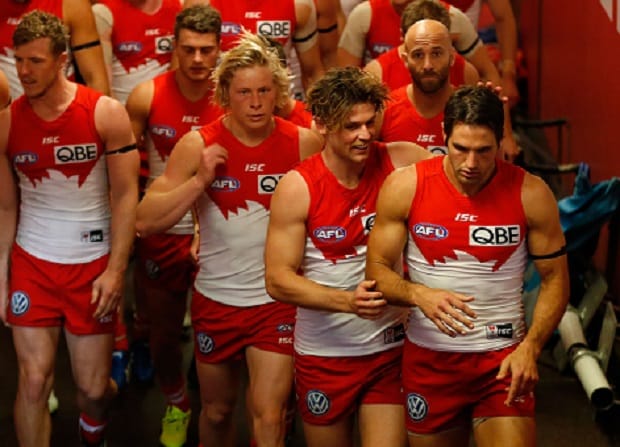 Even before Rampe was elevated to vice-captain, he showed exceptional leadership qualities.