The Sydney Swans and Volkswagen have joined forces again this year to launch the Volkswagen Grassroots Grant program, giving community AFL clubs across the country the opportunity to apply for one of 10, $1000 grants to help their club.
Last year, the Ironbank Cherry Gardens Football Club, located in South Australia was one of the lucky winners who received a $1000 grant.
Owned by the community of Cherry Gardens, the club does not have access to local, state or federal government funding, which means it relies on support from sponsors and grants, such as the Volkswagen Grassroots Grants program.
In dire need of funding to help support new infrastructure, the Ironbank Cherry Gardens Football Club applied for a grant to purchase new nets to place behind their goal posts.
The club's vice president Don Watton said the grant has been a huge help.
"The Volkswagen Grassroots Grant was very important as it made the difference for us to be able to afford the new nets, otherwise it would have been delayed for another season while we tried to raise additional funds," he said.
"The new nets are of great benefit to the club both at training and on game day, and they've improved the safety for players and officials by not having to go on the road to collect balls."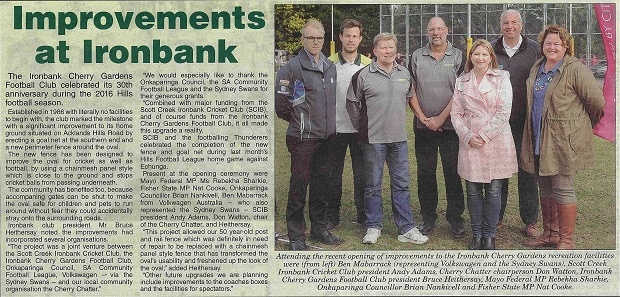 In addition to the new infrastructure, the result of winning a grant in 2016 also allowed for the Ironbank Cherry Gardens Football Club to develop a stronger relationship with the Sydney Swans, which has continued well into the new season.
The Volkswagen Grassroots Grants program is back in 2017, with another $10,000 up for grabs for community AFL clubs.
For your chance to win a share of the $10,000 click HERE to apply.