Twelve-year-old Sydney Swans member Gianmarco Pradel has been a busy boy.
A junior reserved seat member for the past five years, Gianmarco put his recruiter's hat on to sign up a dozen of his mates as members all by himself for season 2017.
It's all part of the Club's Nominate Your Mates membership drive where just by sharing the experience of being a Swans member with friends and family you could be in the running to win big.
As a thank you to this passionate Swans and AFL supporter, the Club gifted him with two tickets to this year's Club Champion Dinner plus a chance to run out with the team as junior mascot for the Sydney Swans' Round 7 clash with Brisbane at the SCG...an offfer Gianmarco couldn't refuse.
And he must have been a lucky charm with the Swans coming away with their first win of the season.
We, at the Sydney Swans offices, received this amazing letter from Gianmarco the following week to express his gratitude.
Have a read.
...
My family is originally from Victoria where AFL is played in all Schools and followed everywhere, which is why I live and breathe the game!!!
Here in Sydney, it's not quite the same, AFL isn't as intensely followed, although it has become more popular over the past 10 years and played in more schools.
But we need more schools to introduce it.
So I thought that by recruiting members for the Swans and getting my mates and their families to the games that would create more interest at school and our local community (hopefully).
I love the Swans, I have been a mad Swans supporter since 2009 when Josh 'Joey' Kennedy came to Sydney.
The Swans are the best! They are courageous, tough and NEVER ever give up!!
My experience as mascot was incredible and I loved every second - especially running through the banner with Josh and then sprinting with the team - and doing a bit if the warm-up. Awesome!!!
The first win of the season was fantastic - it's great when we win and can sing the club song!!
I still cannot believe I had this experience and if I could I'd love for my mates to experience being mascot.
Hopefully together we can recruit more members!!
Big thanks again,
Gianmarco Pradel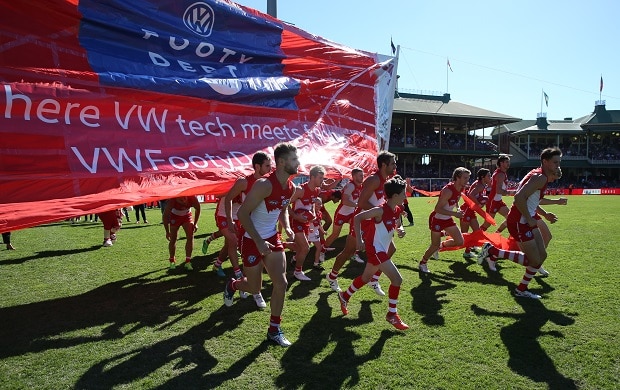 Gianmarco runs through the banner alongside his favourite player, Josh Kennedy.
...
You're a star, Gianmarco.
See you at the footy.
Go Swans!