Barry Round wakes up about 7am most mornings, takes a three-minute stroll down a laneway, and goes for a swim and a walk along one of the most idyllic beaches in the world.
Suffice to say the now 67-year-old Brownlow Medallist, AFL Hall of Famer and Sydney Swans Team of the Century member is enjoying life in retirement.
"I like to get the blood flowing, and it keeps me active and in some sort of shape," he says, having last month celebrated 10 years living at Miami on the Gold Coast.
But this week Round will break from his tourist-like routine to visit Sydney for the Swans' Thursday night SCG clash with the Western Bulldogs.
It is the team he supports keenly against his "other team", but make no mistake, the former ruckman turned centre half-forward, who played 135 games for the Dogs before 193 games for the Swans, is a Sydney man.
"I'm 100% Swans," Round insisted, looking forward to what has become an annual catch-up with some old mates from Melbourne whenever the Swans meet the Dogs in Sydney.
"They (the Dogs) have beaten us the last three years so I'm hoping things turn around this week," he said, still copping plenty of lip from his mates after the Dogs beat the Swans in the grand final last year.
"They've only just stopped gloating," he said with a laugh.
"I do have a bit of a soft spot for them as my other team and I guess if anyone was going to beat us in the grand final I'm glad it was them because like Sydney they had a long drought."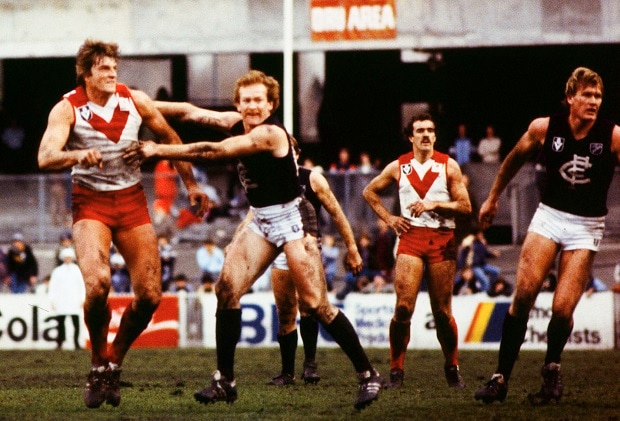 Barry Round (far left) during his playing days in the 1970s.
Round, still in good shape, is no newcomer to his daily swimming routine. He used to do the same thing at Williamstown, where he finished his career as a Liston Trophy winner and dual premiership captain-coach in the VFL after his time at the Swans.
"I'm a bit of a Tommy Hafey – I swim all year round. Back in Melbourne the water would get down to nine degrees in July-August. Here (on the Gold Coast) the locals think I'm mad in the middle of winter, but the coldest the water gets is 18 or 19 degrees so it's beautiful."
While it won't surprise anyone that the ever-popular Round maintains a strict exercise program the next part of his daily routine is less like the former carpenter and one-time AFL strongman.
"I'm a housewife," he says laughing again. "After a swim and a walk I'll go home, have breakfast, read the paper, make the bed, tidy up the joint, do the shopping, pay a few bills and look after whatever else needs doing."
Round's partner Jenny runs a cleaning business so he's happy to occupy himself attending to home matters, with an "occasional" lunch.
"People often ask how I fill in my days and I say it's easy – I just do."
Why the Gold Coast? "A while back my son and my daughter were both living on the coast and I'd come up and visit often. When they'd drop me back at the airport to go home they'd ask: 'why are you going back to the cold?' One day I thought 'you're right'. So I moved here.
"I've got a couple of grandkids now so it's a family and lifestyle thing. I love it."
Round has no direct involvement with the AFL but is president of the Queensland AFL Club, which meets for lunch on the first Monday of each month at the Burleigh Bombers club.
This week Gold Coast Suns CEO and former AFL football boss Mark Evans was the guest speaker, entertaining 130 AFL tragics with his take on the League's newest club.
Among other regulars are ex-South Melbourne ruckman Cliff Deacon, the immediate past president, Bill Ryan, John Hendrie, Tony Polinelli, Brian Douge, John Cassin, Arnold Breidis, Neville Fields and Bernie Massey.
Round, Swans captain from 1981-85 before, during and after the move to Sydney, loves nothing more than catching up with old footy mates. Among them Bernie Quinlan, with whom he shared the '81 Brownlow.
"He's a bit slack ... I'm due to ring him to make sure he's ready for the Hall of Fame dinner in Adelaide. I've been trying to get him up here for ages but he always finds a reason not to come. I'll wait until it's 10 degrees in Melbourne and see what he says then."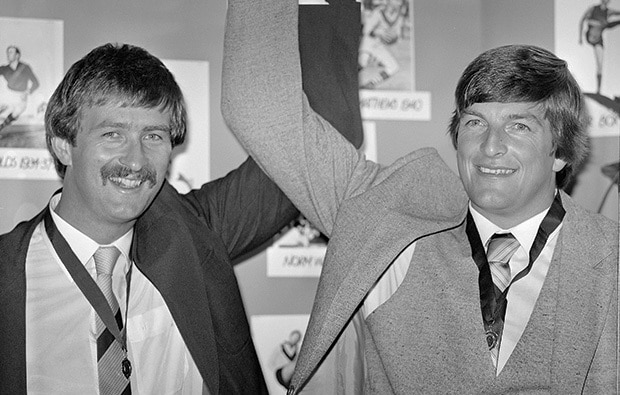 Fitzroy's Bernie Quinlan and South's Barry Round celebrate their equal share of the 1981 Brownlow Medal.
Round's Brownlow Medal is something of a tourist attraction on the Gold Coast.
"I keep it in the safe at home but occasionally holiday makers or Swans supporters will drop in and ask to see it. The kids love it and I've had plenty of people get a photo taken with it, which is great."
That, too, is nothing new. Swans best and fairest winner in 1979 and '81, he was always a massive favourite with the fans, and is always good for a chat.
Ask him how he would fare in the modern game and you were always going to get an answer to one extreme or the other. His reply? "I'd probably win three Brownlows," he said laughing again.
"No, seriously, the pace of the game would probably find me out a bit but I wouldn't be on my own.
"I reckon I could still take a mark and get a kick because I couldn't get any fitter than I did when I was playing. It's so different these days. Back then I'd get to work at seven o'clock, work eight hours on a building site, train for two-and-a-half hours, and then go home and go to bed so I could get up and do it all again the next day."
The modern game? "I really admire the skill and fitness of the players and respect the pace of the game, but I do get a bit frustrated with all the numbers around the ball. They don't seem to kick it to a contest too often these days. But that's progress."