Mark Browning played his 200th game for the Sydney Swans on June 16, 1985.
He was captain of the club and 'celebrated' with a 67-point win against St Kilda at the SCG. But he didn't celebrate. And 32 years on he has no special memories of what should have been a major career highlight. So much so, in fact, that when asked about his memories of this significant milestone he started with "it was against Essendon …"
It wasn't. Essendon in fact was his 199th game a week earlier, when the Swans lost by 42 points at Windy Hill and he "got a whack behind the ear from Roger Merrett". Privately, Browning celebrated that game as his 200th. And therein lies the story of a major milestone muddle.
"Back then we really didn't celebrate milestones too much, and there was some confusion about whether you got credited with a club game when you played a State game … I think that was the problem," Browning explained.
"I remember my 250th. I was only the second Swans bloke to get there behind John Rantall so it was a pretty big deal and nobody batted an eye-lid. It was just different to what it is today."
For the record, though, there is one very significant statistic of which Browning is rightfully very proud. He is the only player among more than 1400 South Melbourne/Sydney Swans players to play 100 games for South Melbourne based in Melbourne and 100 games for the Swans based in Sydney.
For the record, Browning's official 200th AFL game was second-bottom Sydney against bottom side St Kilda. It was the Swans' fourth win of the year and ultimately ensured the Saints collected the wooden spoon.
"Sorry, I really can't remember too much about it," he said.
Sydney's Anthony Daniher had 26 possessions and kicked a goal to earn the three Brownlow Medal votes, teammate David Murphy got two votes for 23 possessions and two goals, and Tony Lockett got one vote for seven goals for the Saints.
It was an all too rare highlight in a season where the Swans, in their only season under first-time coach John Northey and their fourth season based permanently in the NSW capital, finished 10th in the 12-team competition with a 6-16 win/loss record.
"It wasn't a great year," recalled Browning, who had inherited the captaincy mid-way through 1984 after being vice-captain for five years.
"A lot of the boys got a bit restless because they were battling to get work and about half way through the season a few of them moved back to Melbourne, so we became a club with two bases.
"Sometimes we'd only have eight or 10 senior players at training during the week, and we'd come together for the last session before the game.
"It wasn't ideal … I really felt sorry for 'Swooper' (Northey) because he didn't get a fair crack at it, And in the end it was why we lost a few players too."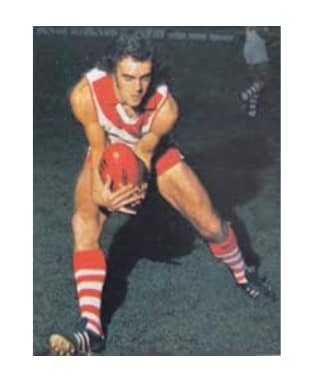 Browning carried a bad knee through the 1985 season, and admits as captain he often played to try to help the team when probably he shouldn't have.
"They thought I had a cyst under my knee but when they operated at the end of the season they found I had torn the patella tendon off the bone. No wonder I couldn't run or jump. It's one of my regrets that I didn't have a great year."
Happily, better times followed in the last two years of Browning's career in 1986-87, when they played finals under Tom Hafey and he was vice-captain to Dennis Carroll, but the mere fact that Browning is alive and well 32 years on to recall his 199th and 200th games makes the woes of 1985 seem irrelevant.
< Mark Browning in his early South Melbourne training days.
In late October last year, Browning had a major health scare and there was a time when it looked like he wouldn't make it.
A text message from former teammate and close mate Tony Morwood to other friends and colleagues said "the next 12 hours is critical. Start praying'.
It is not something Browning wants to discuss publicly, but after an extended stay in the Intensive Care Unit and a much longer stint in hospital Browning was released and is now doing "pretty well".
In mid-April he eased back into work at AFL Queensland, where he is State Talent and Academies Manager, and is slowly doing more and more in a job he has held since 1996. Happily, he carries no outward side-effects of his scrape with death as he reflects passionately on more than 45 years in football.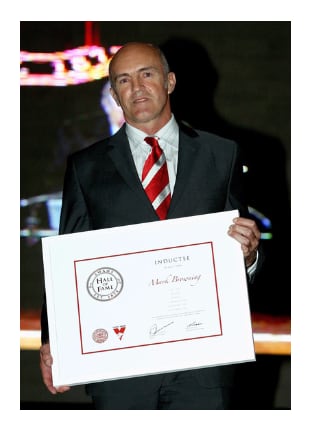 The son of Keith Browning, who played 53 games for South Melbourne from 1951-54, he grew up in the small country town of Trafalgar in Gippsland in western Victoria. Why? Because his father had quit top level football at 21 to go coaching in the bush.
"Mum (Lois) and Dad had two young kids at the time and no car so they travelled to Trafalgar in the furniture truck," Browning recounts.
"I told that story on Coodabeen Champions a couple of years ago .. they loved it. It'd be a bit like Tom Boyd going back to Melbourne in a furniture truck after he left GWS to join the Bulldogs," he said.
After a stint in Wangaratta the family moved to Melbourne when Browning was 14, buying the East Doncaster house of former Fitzroy player Chris Smith, who used to play wearing a helmet. He joined local junior club Beverley Hills, which counts Paul Roos among its greatest products.
< Mark Browning at the 2009 Sydney Swans Hall of Fame Dinner.
As the prospect of AFL football approached he was in a quandary. He'd lived previously in the Ovens and Murray zone area of North Melbourne, was a potential father/son choice to South Melbourne, and was living in the Fitzroy zone. Browning kicked six goals in a practice match for Fitzroy in Warrnambool, but didn't meet Fitzroy's three-year residential qualifications and rejected the club's request to put his senior aspirations on hold for 12 months so he could qualify for the Lions.
He wasn't about to do that, so he took the father/son option, played with South Melbourne Reserves at 17 in 1974, and debuted the following year, starting in jumper #43.
From 1975-87 he played 251 games to rank seventh on the club's all-time list behind Adam Goodes (372), Jude Bolton (325), Michael O'Loughlin (303), Jarrad McVeigh (289), Ryan O'Keefe (286) and John Rantall (260), switching to jumper #11 in 1979 and winning the club best and fairest in 1983.
Later, he was a four-year captain-coach and a one-year non-playing coach of Hobart in the Tasmanian Football League, taking them to three grand finals and a flag in 1990 when Tony Morwood played as a fly-in player in the second half of the season.
In 1993, he coached Tasmania against Queensland and in 1994-95 he coached Southport in the QAFL before taking on a key development role at what is now AFLQ in 1996. At AFLQ Browning has overseen a program through which more than 100 Queensland products have played at AFL level.