New development coach Tadhg Kennelly's unwavering passion for the Sydney Swans ultimately lured the Irishman back to where it all began.
Kennelly will take the helm of the NEAFL Swans, alongside retiree Jeremy Laidler, in a new-look development office which includes the departure of Rhyce Shaw (promoted within as an assistant coach) and Nick Davis (appointed as Talent and Development Manager at the QBE Sydney Swans Academy).
Shortly after retiring at the end of 2011, Kennelly initially explored teaching but an overseas gig with the AFL eyeing and recruiting international talent sparked an interest in coaching and he's since held roles at development and representative level.
Even before his retirement Kennelly worked with the QBE Academy, a relationship which was enhanced during his recent stints as head coach of the NSW/ACT Rams/Allies and the AFL's U/18-U/16 academies.
Then, when the Sydney Swans came knocking last month, Kennelly jumped at the opportunity to don the red and white again.
"I've been out of the game for a few years now and out of clubland, and the thought of pulling on a red and white guernsey (of sorts) again is a great feeling," Kennelly said.
"Over the past few years I've learned an enormous amount, about not only coaching but about myself. I've also been lucky in that I've had a taste for that environment, having coached my own team for the past couple of years coming up with my own philosophies, game plans and structures.
"I'm a very passionate person, I'm passionate about everything I do so straight away this was a quick-fix and I knew this is where I wanted to be."
As well as juggling his coaching commitments, Kennelly featured prominently in the media with weekly spots calling footy with AFL Nation and his guest television appearances.
He says looking at footy in a different light helped shape his coaching philosophies.
"Without even knowing it I was constantly learning about myself and learning about the game," he added.
While we're sure every member of the development squad is looking forward to seeing Kennelly and Laidler in the hot seat, one man will now be chomping at the bit for day one of pre-season.
Kennelly has been somewhat of a mentor to Colin O'Riordan since the Category B Rookie landed in Australia, offering a friendly ear and voice while his fellow countryman finds his feet.
The opportunity now to work one-on-one on the training track and on game days has become a reality.
"Obviously I've had a lot to do with Colin since day dot, he's a super kid and really motivates himself and drives his career … that is something that's relatively easy to coach," Kennelly said.
"I'm looking forward to working with Colin and it'll be great for him as well having someone who knows where he's from, the lay of the land as far as he's concerned and the challenges presented to an Irishman trying to play AFL footy."
Kennelly played 197 games across 11 seasons with the Sydney Swans, featuring in the drought-breaking 2005 premiership.
Nearing the end of his playing career, Kennelly returned home to chase (and capture) an All-Ireland Senior Football Championship with Kerry County in the Gaelic Athletic Association.
He was inducted in the Sydney Swans' Hall of Fame in 2015.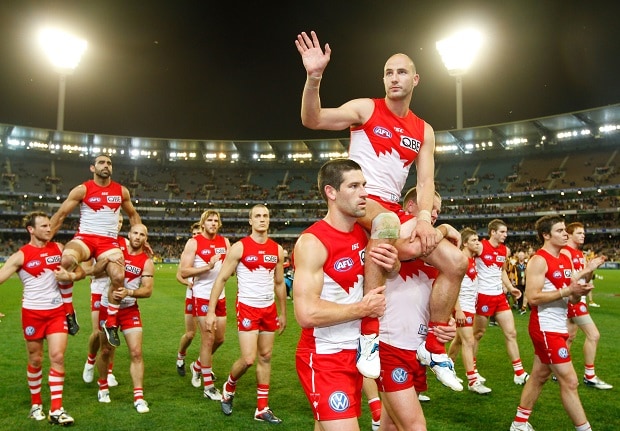 Tadhg Kennelly is chaired off after the 2011 semi-final loss to Hawthorn, his 197th and final AFL game.