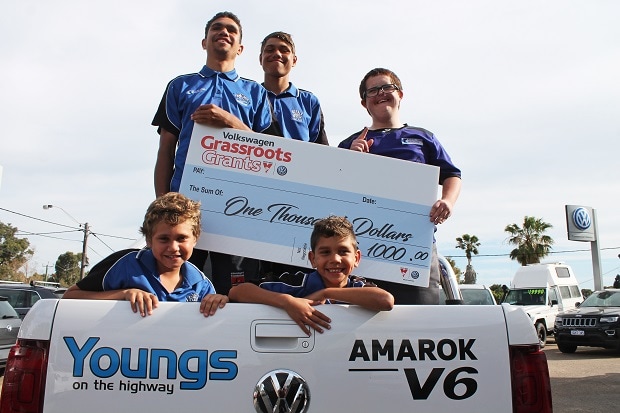 Chapman Valley Junior Football Club has received a $1000 grant to help offset costs of fielding a second under-8s side this year.
The club was one of 10 to receive funds through the Volkswagen Grassroots Grant, launched in 2015 in partnership with Sydney Swans and Volkswagen.
Chapman Valley Junior Football Club treasurer and registrations co-ordinator Michelle Cassin said the money would help supply new equipment.
"We are a growing junior football club and due to an influx of numbers, we were able to have two under-8s sides this year," she said.
"When I received notification we were one of the 10 winners nationwide, I was so excited.
"Having the additional team this year meant we had to buy a new set of jumpers, balls, portable goal posts, coaches and team manager bags, so the $1000 was a fantastic help towards those costs." In the application, the club also mentioned their success in fielding a winning under-16s premiership side in 2017, having struggled to put together a team previously
"We had struggled with not having an under-16s side back in 2014, then we managed to scrape a side together in 2015 only to be beaten every week by over 100 points," Cassin said. "Then in 2016, that team developed and managed to play finals, but were beaten in the preliminary and this year at the time of the application, we were undefeated.
"That team went on and won the 2017 premiership."
She also thanked the grants scheme for allowing the club to grow even further. "Grants like this truly help grow football clubs like ourselves with those extra costs that come about."