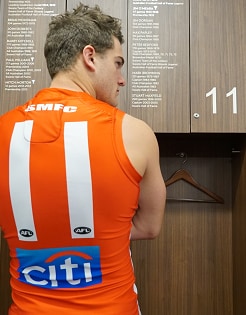 Max is on the locker so I thought it'd be a good bit of history if one day I could get my name up there as well. That would be pretty special.
Tom Papley
Exciting forward Tom Papley will follow in his grandfather's footsteps by wearing the No. 11 for season 2018 and beyond.
Papley wore the No. 41 during his first two seasons of AFL but, following the retirement of its previous wearer Jeremy Laidler at season's end, the former rookie jumped at the chance of returning the No. 11 to the family.
Max Papley, or "Pap", is listed on the No. 11 locker at the SCG, with the tough centreman having worn the famous number for 45 of his 59 games with South Melbourne from 1964-67 (switching to No. 17 in his final season).
While Max Papley's VFL career was brief, his impact was profound, winning the Club Champion award in '66 while forming a formidable partnership with Bob Skilton during his time in red and white.
Fast forward a half century and now Tom Papley has been given the honour of carving his own legacy with the No. 11 on his back.
"Through family history I've chosen the No. 11," Papley told SwansTV.
"Max is on the locker so I thought it'd be a good bit of history if one day I could get a premiership cup next to my name and get my name up there as well, which would be pretty special.
"I had two years in No. 41, played 40 games, it was good to me. Thought I'd change things up a bit.
"I had a think about it when Laids (Laidler) retired. Laids was a good servant to it. I had another couple of weeks to think about it then, yeah, it'd be a good piece of history to take it on."
Papley's ties with Swans run even deeper given his maternal grandfather, Jeff Bray, also played for South Melbourne during the '60s.
Meanwhile Sydney's new recruits have also been allocated their jumper numbers ahead of their first season in the red and white.
Sydney's first selection in the National Draft, Matthew Ling, will wear No. 19 made famous by Michael O'Loughlin and recently left vacant by Shaun Edwards, who retired after his one season on Sydney's list.
Ling's good friend and former Geelong Falcons teammate Tom McCartin will don the No. 30, while the Swans' third pick Ryley Stoddart takes on No. 33, previously worn by Brandon Jack.
For the third consecutive season the No. 37 will remain vacant in honour of dual Brownlow medallist, three-time Club Champion and Sydney's games record holder Adam Goodes.
See the full list of jumper allocations for season 2018 below:
No. 11 - Tom Papley
No. 19 - Matthew Ling
No. 30 - Tom McCartin
No. 32 - James Bell
No. 33 - Ryley Stoddart
No. 41 - Jake Brown
No. 45 - Angus Styles
No. 46 - Joel Armatey