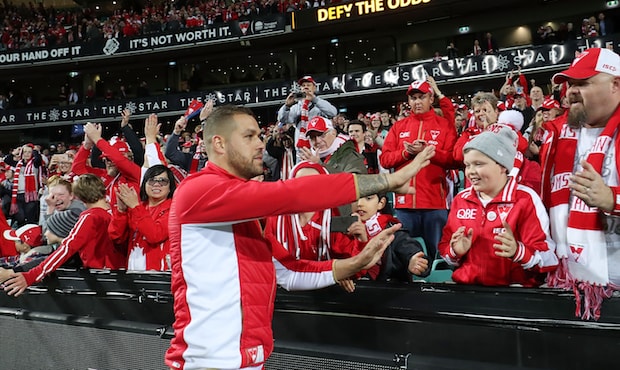 Sydney Swans fans are showing they're Proudly Sydney with more than 40,000 members already on board for the 2018 season.
Record numbers are getting behind the red and white before the start of the home and away season next month.
Jenny Chisholm, Sydney Swans' General Manager – Customer is looking forward to sharing a big season on and off the field with members.
"We're really excited to welcome everyone to the team for the year ahead. Whether it's their first year as a member or if they've been with the Swans since our South Melbourne days, we can't wait to share all the moments that matter with our Swans footy family in 2018" Chisholm said.
"Coming to the football isn't just about the action on the field. It's about the people that come together every year to cheer the team to victory."
"It's sharing the unbelievable moments with friends, family and other Swans supporters that makes a trip to the SCG so special."
"We're confident the best is yet to come in 2018, and like our players, we can't wait to soak up the atmosphere at the first home game."
The Club set a new membership record last year with 56,524 members joining the team. In 2018, we hope to reach 60,000 members for the first time in the Club's history.
Make sure you're part of our footy family this year. If you are yet to renew, simply click here to login and follow the prompts to sign up online.
If you are looking to join the team for the first time in 2018, we have a great range of memberships to choose from! Click here to browse through the benefits to choose the package that best suits you.
Need a hand?
Our Member Services team are here to help. If you have any questions or if you're not sure which membership is right for you, contact the team on 1300 663 819 or try our online chat service at membership.sydneyswans.com.au.