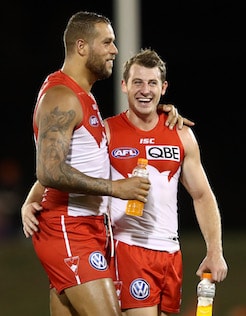 It's the calm before the storm.
The Sydney Swans, and the rest of the competition for that matter, will have a hard-earned break this week before the 2018 premiership season kicks off.
After four weeks of pre-season hit outs including practice matches, the AFLX Tournament and the JLT Community Series, the real stuff can now begin.
The Swans are regrouping after a rather successful period of five wins from six competitive games, including a solid first-up performance in the inter-club, two AFLX runs and a clean sweep of the JLT Series.
Two of those wins have come against GWS, which would please the coaches so close to the regular season – just because there were no points up for grabs, doesn't mean there's nothing to gain.
As key defender Lewis Melican pointed out following Friday's win in Blacktown: "It plants a little seed in their mind for the next couple of times we play them."
What else did we take away from the Swans' final tune-up game of the pre-season?
Winning form is good form – obviously.
It's safe to say that any AFL coach would jump at the prospect of establishing winning habits as early, quickly and pain-free as possible.
The Sydney Swans have achieved just that, having come away with good wins over Brisbane and GWS in the JLT Community Series.
Of course, it is only the pre-season, where game plans can range from simply ticking the miles over to trying different players in different positions or blooding the kids.
But, to state the obvious, winning form is good form and the Swans will take plenty of confidence with them on the plane to Perth for their season opener against West Coast.
Sydney Derby XIV is shaping up to be the biggest yet.
The Sydney Swans may have a mental edge over cross-town rivals GWS, for now, after winning both pre-season matches – last month's inter-club practice match at Henson Park plus game two of the JLT Series.
Both teams took advantage of Friday's final dress rehearsal by fielding experienced sides – and they won't have to wait long to renew hostilities, with Sydney Derby XIV penned in for Round 3 at the SCG.
The Swans will be hoping to continue their winning form in the April 7 showdown, while the Giants will be out to turn the tables. Add to that four crucial premiership points and you have a beautiful concoction which should congeal and make for must-see football.
Kieren Jack, the forward.
Kieren Jack is a proven midfielder, tough as nails and with leadership qualities to boot. But, in recent times, Jack looks to have reinvented himself … as a bona fide forward.
Jack spent more time inside 50 last season, a move largely out of necessity to keep the veteran out on the park as he battled a nagging hip injury during the first five to six weeks of the season.
Even after the former skipper recovered Longmire continue to play Jack up forward, where he became a goal-a-game player towards the end of 2017. He played predominately forward on Friday night, leading strongly and finding plenty of space to finish with a game-high three goals.
If this is a sign of things to come, we like what we see.
As chief executive Andrew Ireland informed the Daily Telegraph of Jack's rejuvenation: "He's that hybrid mix. He's strong enough despite not having a big frame to mix it up. He's a strong tackler but he's also got the speed both ways, which helps us a lot."

Kieren Jack has had a trouble-free pre-season and will look to build on his solid form in front of goal in 2018.
Sydney has options across half back.
If there's at least one thing John Longmire can take to the bank, it's that he'll have versatility across half back in season 2018.
Often likened to NFL quarterbacks of sorts, the half-back flanker needs to break lines, have a good turn of foot or an elite kick – or (ideally) a mix of all three.
Jarrad McVeigh, a master half-backmen, is due to return from injury in the next few weeks. Jake Lloyd is going from strength to strength and looks set to stay across the backline for the foreseeable future. Callum Mills has enjoyed a rapid rise in that spot, while Nic Newman's left boot will be an asset from the defensive 50. Zak Jones has just completed his apprenticeship there and Harry Marsh is a viable option as well. Then there's newcomer Ryley Stoddart, who has his name written all over a half-back slot in the future with his speed and polished left boot.
So, there are options, now it's up to the coaches to find the right mix.
Sydney's list is getting healthier by the day (if you're superstitious, touch wood before reading further).
Aside from Sam Naismith's heartbreaking ACL injury, the Sydney Swans have got through the pre-season relatively unscathed and should be close to full strength by Round 1.
Callum Sinclair and Aliir Aliir missed last weekend with ankle injuries but, from all reports, should be available for the trip to Perth.
Heath Grundy took enormous strides in his return from a sore calf, the veteran defender playing 60 minutes in Friday night's NEAFL practice match before giving the thumbs up to Swans Media in the rooms post match.
Zak Jones also had his first run of the pre-season, picking up 17 disposals and seven marks against the Giants to all but solidify his selection for the season opener.
The biggest question marks surround Jarrad McVeigh (calf) and Dan Hannebery (groin and calf) but there is light at the end of the tunnel as the pair transition to skill work and then full training when the players return to the track on Thursday.

Zak Jones was back in action on Friday night.