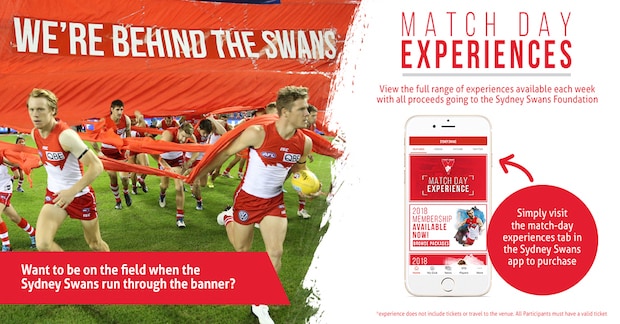 Sydney Swans fans can continue to enhance their match day experience throughout the 2018 season through the official mobile app.
Simply by heading to the match day experiences tab within the app you will have the chance to win signed match balls, guernseys and you could even be a part of the guard of honour pre-match.
Congratulations to Stephen Dodd and Stephanie McBurney who both won the match day raffles in Round 2.
McBurney said she was excited to be able to take home the official match ball after entering the match day raffle.
"It was only my second game watching at the ground (my first was the epic final against Essendon last year)," she said.
"I usually watch every game on TV, so being at the SCG was amazing, and this just tops off the experience."
"I am a member this year, so I am looking forward to seeing another 10 games at the SCG!"
At every home game throughout the season (excluding Round 11) the club will be offering tickets into the match day raffle to win the match ball or Guernsey.
All funds raised in these raffles goes towards the Sydney Swans Foundation.
This weekend you could be lining up in the guard of honour as the team runs out ahead of Sydney Derby XIV.
Make sure you download the Sydney Swans official app today for your chance to take up these great experiences.