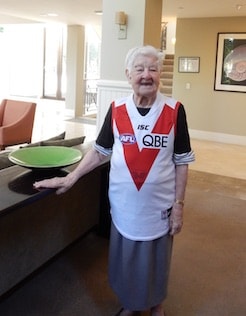 Victory over Hawthorn gave long-time South Melbourne-Sydney Swans fan May Lowe an early present ahead of her 102nd birthday on Monday.
Lowe lives at an aged-care home in the Melbourne suburb of Kew and jokes with a small band of friends about whose team has the wood on the other.
Her friends often deck themselves out in Hawthorn and Geelong attire for meals in the food hall, while Lowe flies a Swans flag solo.
But the Victorian didn't need an army of fans behind her as she blew out 102 candles on Monday as she was flying high off the back of the Swans' eight-point win over the Hawks last Friday.
Lowe has followed the Swans since her early 20s and says watching Sydney win remains a highlight.
"Even if I'm having a great weekend with my friends at the home a win just puts the cherry on top," Lowe said.
"I don't miss a game and hearing the song and seeing how happy the players are after a win – it's just amazing."
Lowe rides every goal and bruising tackle and lived through the highs and lows of the Club's transition from South Melbourne to Sydney.
South Melbourne originated in 1874 and a number of administrations fought hard throughout the 1960s and '70s to keep the Swans alive.
But diminishing attendance and memberships nearly resulted in bankruptcy and in 1982 the Club relocated to Sydney for survival.
Lowe had cheered the Swans on at Albert Park's Lake Oval and had mixed feelings when the Club packed its bags.
But 36 years later, the proud fan couldn't be happier.
"The move to Sydney kept the Club alive and now I'm still able to cheer on the boys every week.
"Even at 102 I am as big a fan as ever and as jolly as ever.
"I never missed a South Melbourne game and I never miss a Sydney game.
"I've got a beloved Swans jersey and it's not going anywhere."