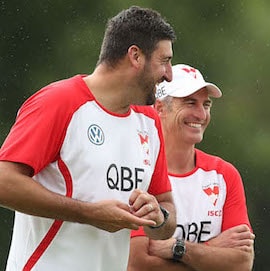 They once butted heads during one of the fiercest rivalries played out in modern football, now they've joined forces to guide the Sydney Swans into a new era.
1:37pm Jan 18, 2018

We begin to look ahead to what Swans fans have to look forward to over the next few months with only 66 days until our first match of the home and away season.
11:55am Jan 18, 2018

A select group of players were put through some circuit training on Wednesday as the 2017/18 pre-season campaign continued at Lakeside Oval.
1:05pm Jan 17, 2018