Men's and women's 2018 replica guernseys have launched, the perfect Christmas present for the entire Sydney Swans family.
8:31am Dec 15, 2017

The Cooper Rice-Brading Foundation is offering the chance to win a Boxing Day Test experience with proceeds going directly to cancer research.
4:48pm Dec 14, 2017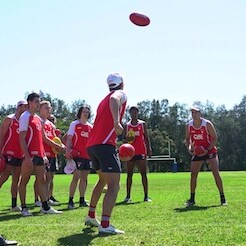 Development Camp ticked off for another season with the first-to-fourth-year players debriefing from an intensive three-day training camp on the Northern Beaches.
3:43pm Dec 14, 2017