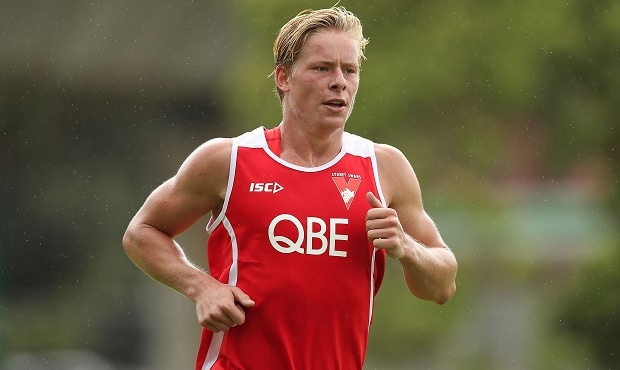 The QBE Sydney Swans Academy aims to develop a strong AFL culture in NSW, where young people can enjoy playing football at all levels, whether that be the AFL, or their local competition.

The Academy aims to develop players who are equipped to play the game at a high level.
The Academy is proud that a number of Academy members have graduated to play in the AFL.
Academy members who have been drafted to the AFL include:
Jake Brown (Sydney Swans; junior club - Coffs Swans)

James Bell (Sydney Swans; junior club - Shell Harbour Swans)
Isaac Heeney (Sydney Swans; junior club – Cardiff Hawks)

Callum Mills (Sydney Swans; junior club – Mosman Swans)
Jordan Foote (Sydney Swans; junior club – Maroubra Saints)
Daniel Robinson (Sydney Swans; junior club – Mosman Swans)
Brandon Jack (Sydney Swans; junior club – Westbrook)
Sam Naismith (Sydney Swans; junior club – Gunnedah)
Ben Davis (Adelaide Crows: junior club – Maroubra)
Abe Davis (former Sydney Swans; junior club – Maroubra)
Jack Hiscox (former Sydney Swans; junior club – Glebe Greyhounds)

Players aged 18 and 19, who are in the Academy's Top End program, are part of the NDS, or NEAFL Development Squad. This gives them the chance to continue their football development in a high-standard senior competition.
Players in the NDS are also integrated into the Sydney Swans senior training program, and can be selected to play in the Swans reserves team which competes in the NEAFL.
Alternatively, they can be selected in the University of Sydney team, which also competes in the NEAFL.
In recent seasons, a significant number of players in the NEAFL competition have been drafted to AFL clubs as mature-age players.
The Academy oversees the development of players in the NDS, and advises on their best pathway.

At Under 16s and Under 18s levels, players have the opportunity to be selected in either Academy representative teams, or state-based representative teams.
These teams compete at the highest under-age standard against other Academy teams, or teams from other Australian states and territories.
These competitions allow Swans Academy players to be exposed to competition at the highest level, and bring them to the attention of national AFL recruiting staff.

Academy members are encouraged and assisted to be leaders among their peers, no matter what level of football they play.
The Academy curriculum emphasises personal development as well as sporting development.
The commitment and discipline required to be part of the program translates to the everyday life of Academy members, and equips them to better cope with other demands and interests, such as schooling and social life.

The Academy provides a professional, age-appropriate program for gifted athletes. It allows them to properly prepare to play at the highest level, and a clears pathway to professional sport.

The Academy program has had success in developing the next generation of players, coaches, umpires and administrators for AFL in NSW.
Already we have seen that our players are lifting the standard of competition at all levels in NSW, and providing more depth for coaching, umpiring and administration.