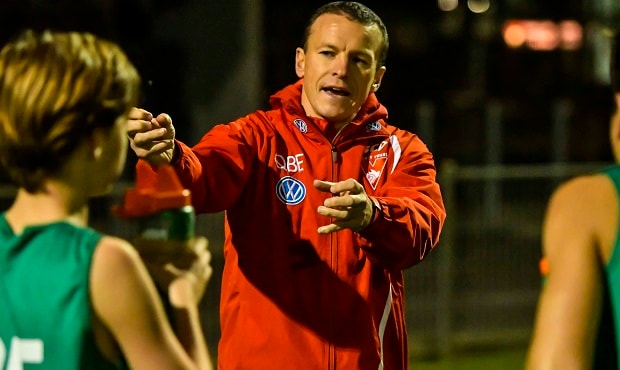 The Academy employs coaches with experience in all facets of the game to help young players develop to the best of their ability.
The Academy utilises sophisticated coaching and training programs to enhance learning and skill acquisition.



The head coach of the QBE Sydney Swans Academy is Jared Crouch. Crouch has been in the role since early 2016.
A member of the Sydney Swans Hall of Fame, Crouch played in the Swans' 2005 premiership side and is remembered as one of the most disciplined and durable players in the game.
He was recruited to the Swans from Norwood in South Australia at the end of 1995, and made his senior debut in 1998. After breaking into the team, he did not miss a game until Round 13 of 2006, taking his consecutive games tally to 194, which was an AFL record for consecutive appearances from debut.
Crouch was a highly regarded defensive midfielder who regularly beat some of the best players in the competition due to his pace, accountability and hard work.
Reliable and consistent, he finished in the top 10 of the Sydney Swans Club Champion for six years in a row, and between 1998 and 2008 he played in nine finals series. He was presented with the Paul Roos Award for Best Player in the finals series in the Swans' 2005 Premiership season.
Crouch's understanding of the modern game, and understanding of the skill, commitment and discipline required, make him an ideal Head Coach of the Academy.

The Top End Academy coaches generally have senior AFL experience.
Swans staff, such as strength and conditioning staff, are integrated into the Top End program and play a role in the management of players

The Academy has training hubs in the North and the South, and squad coaches oversee specific age groups.
These coaches get to know the boys and understand their development needs.