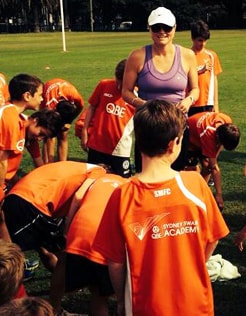 The QBE Sydney Swans Academy has received an injection of pace these school holidays, thanks to Australian sprint champion Melinda Gainsford-Taylor.
Gainsford-Taylor hosted a sprint session with the Academy's under-15 squad last Thursday, and has returned to the club this week to work with the younger age groups.
Speaking to SwansTV, the former World Indoor 200m champion, who held the Australian 100m sprint record for 20 years, said teaching young athletes the correct running technique was extremely important for their development.
"I've been trying to really work on their running technique because the thing about running, and especially running fast, is so important in so many sports," Gainsford-Taylor said.
"We don't teach our kids how to run. We teach them how to swim because it's a form of survival, but not how to run, so it's just been great to give them some technical drills that they can think of and use hopefully at home.
"There are certain key things that can be really important, but the bottom line is if you've got good technique then speed is going to come.
"I just think it's really important, especially with kids and teenagers, that if you can learn that now and practice it, because speed breeds speed, it will make a really big difference."
The 1994 Commonwealth Games silver medallist took the Academy squad through a number of drills during the session, including ladder running and bounding exercises, as well as ball work at pace.
Gainsford-Taylor said there were several key techniques she was trying to instil in the Academy players, which were all relevant for AFL football.
"One of the techniques, which is really important, is to be really tall when they run," she said.
"If they sort of drop in the hips then they are not going to get enough power off the ground, so just making them really conscious of that.
"Another thing is that they don't realise that their arms are as important as their legs, so I tell them that the faster their arms go, the faster their legs go."
Speed and technique has also been a major focus for the Swans' senior squad, with the club employing
Australian Olympic sprinter Matt Shirvington to conduct a number of sprint-based sessions
throughout the pre-season and early season.
Gainsford-Taylor said she felt there were clear benefits of improving the sprinting ability of AFL footballers.
"Obviously you run so much distance in AFL; it's one of the fittest games there is," she said.
"Just watching it, you realise that initial explosive speed is important whether it be to get to the ball or to take a mark.
"It's just about being able to have that explosive speed and doing it over and over again.
"I know that from an AFL point of view, the boys need to do their three-kilometre time-trial in under a certain time, but speed is also very important.
"To be efficient with it, very little effort is something we like and is something that is very important."