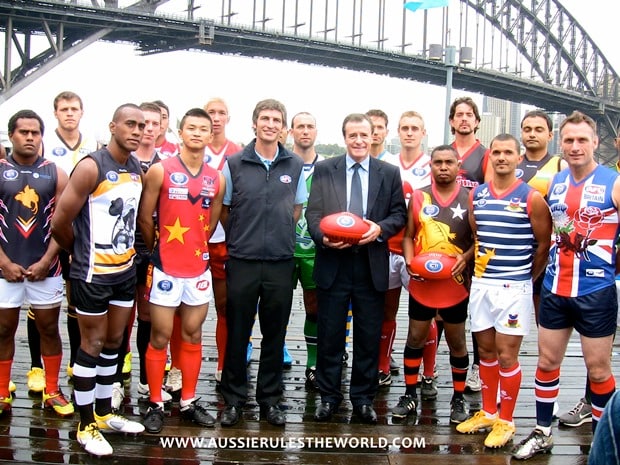 AUSSIE RULES THE WORLD- new movie coming soon!
New Australian movie will delight footy fans, families and all Australians who are interested to see our game taking off all over the globe.

Join AFL superstar Brett Kirk on an international mission through the war torn streets of Jerusalem to meet the unlikely Palestinian/Israeli 'Peace Team' and onto India as he searches for a space of open field in cricket mad Mumbai. Meet the Los Angeles Dragons risking football without helmets and the Kwa Zulu Natal Eagles who sing their bravery into each game. Footy will never be the same!
Taking the Australian indigenous game out to the world is an epic task. Why bother when AFL is the number one sport inside Australia and has been played for over 150 years? In living rooms, bedrooms, offices, trams and taxis we are now being inundated with access to world sports across all media platforms 24/7.
The traditional Australian sports landscape is undergoing a radical change. AUSSIE RULES THE WORLD explores these shifting times when audiences, athletes and the media dollar now compete in an international arena and AFL must look to position itself in this global market.
AUSSIE RULES THE WORLD unfolds a drama of great success and failure as the world teams converge on Australia to compete in the AFL International Cup. International athletes proudly wear their national jumper as they go head to head with a wide range of AFL players from across the world. The film brings together a spectacular display of footy styles, songs, languages, passion, tears and commitment that are beginning to shape the way the game is played forever.
This film is for all footy fans, international sports fans and families across Australia who want to catch a glimpse of the beginning of this remarkable journey as AFL goes viral.
Sydney filmmaker Michael Stringer McIntyre was inspired to follow Kirky and his family on this journey to find out who, where and why people are passionate about footy. McIntyre, a footy tragic himself, loved the idea of our game being played abroad and filmed this journey with Kirky we all could enjoy this footy journey at the movies.
Don't Miss out!
Book tickets now
Pre-order your DVD
now of AUSSIE RULES THE WORLD
Stay updated on all of the movie's news on
Facebook
and
Twitter
.
The views in this article are those of the author and not necessarily those of the AFL or its clubs