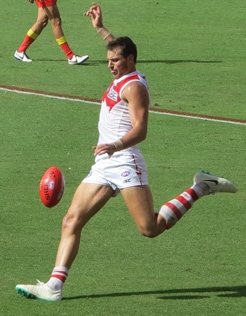 After being overlooked in the 2012 AFL Draft, Tasmanian ruckman Toby Nankervis worked hard and earned his place on the Sydney Swans list in 2014.
The 199-centrimetre player impressed during the pre-season, and was one of the club's best young performers during the club's intra-club matches and pre-season games.
Nankervis continued his good form for the Swans reserves in the NEAFL competition, where he lined up in the ruck as well as up forward as a key position target.
Despite not making his senior debut in 2014, Nankervis told sydneyswans.com.au he'd learnt a lot about what it takes to play AFL football, and would be eyeing a senior berth in 2015.
What did you make of your first year at the Sydney Swans?
I loved my first year at the Swans and I learnt a lot. I feel like I've got a really good grasp of what it takes to become an AFL player.
You were named as the senior emergency on a number of occasions and played in both the ruck and up forward in the NEAFL. How much of a step up has this season been for you?
The step-up has been massive. The pre-season was a massive increase from what I'd done before and was a massive eye opener about just how hard it is to play AFL football. This coming year I'll be doing even more in the pre-season because in the first year they hold you back a bit, but this year I'll be looking to do everything.
Tell me about you role this year. You obviously spent plenty of time in the ruck but also drifted up forward into that key position role. How did you enjoy that?  
Speaking to the coaches, they said you need to be able to play different positions and I think throughout the year I really improved and now I can add that to my game. Coming back next year, I'll definitely be better off.
There are a few talented key position players at this club. What have you learnt from them this year?
Watching those blokes run around every week you see just how hard they work and just how much of a value to the team they are when they're playing well.
How about the other ruckman? Is there a bit of healthy competition between the other young ruckman?
We learn a lot off each other and Mike Pyke has been my mentor. I'm pretty close with him and think I've definitely learnt a lot from that.
What are some of the things you hope to work on for next season?
I just want to complete everything and really just build that fitness base up ready to hit next season.
What are your plans for the off-season?
We've got a bit of a footy trip over in Thailand for a couple of days with the boys and then I'll head back to Tassie to see my family and mates, and I'll just gear up for next season.