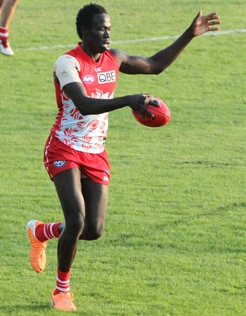 Season-ending shoulder surgery cut short what was a promising first season for young defender Aliir Aliir.
The 20-year-old, who arrived at the Sydney Swans via pick 44 in the 2013 National Draft, started his first year strongly with the Swans reserves, and held down a key position post in defence alongside Xavier Richards.
Unfortunately, Aliir suffered a dislocated shoulder mid-season, and was ruled out for the remainder of the year in round 16, which resulted in him missing the Swans reserves NEAFL finals campaign.
Speaking to SwansTV, Aliir said even though he was sidelined for much of the season, he still learnt a lot in his first year on an AFL list.
What did you make of your first season at the Sydney Swans?
It was pretty good, apart from my shoulder injury and having to have surgery on it was pretty terrible, but I was having a good year before that and I learnt a lot of new things and I'm still learning at the moment, so it's been really good.
It must have been hard to have such a serious injury in your first season. How did you deal with having that injury and having your season end prematurely?
It was pretty hard to watch I guess knowing you can't play, you can't train, and you can't really do anything. It does mess with you a little bit mentally, but all the boys got around me and tried to get me up and about every week. It was pretty hard to watch, but the boys really helped me out.
At the start of the season you took on a role as a key defender down back, which was new to you. How do you feel you performed and what would you like to improve on for next year?
Playing in the back line, I sort of got used to it and I knew I got drafted to play there, so I tried to use my run and carry, which was good. I think the defensive side of my game is something I have to keep working on this pre-season, as well as locking down my man and reading the ball in the air. They are some things I really need to work on, as well as my fitness.
Have the senior defenders offered you any advice this season?
Yeah, Teddy (Richards) and Reg (Heath Grundy) have been great. When I watch my vision, they will tell me what I do wrong and what I'm doing right and sometimes they get me to watch their vision as well. They have been really, really good to me and well as (Rhyce Shaw). He's not a key back, but he's still a defender and he's helped me training wise and has taught me about training with intent. Really, everyone has been great to me.
While you were injured, you did head down to Melbourne to watch the seniors play in the AFL Grand Final. What did you take out of that experience?
It was disappointing to lose and it was a little bit hard to watch, but it was a good experience to go down to the Grand Final and hopefully one day it can be me playing down there. I know I've got a lot of hard work ahead.
Now you've got a few weeks off, what are your plans for the off-season?
I'll be hanging out in Australia and I'll be going to Brisbane for a week and then heading off to Perth to hang around with the family. I still need to make sure my shoulder is right so it will be good.