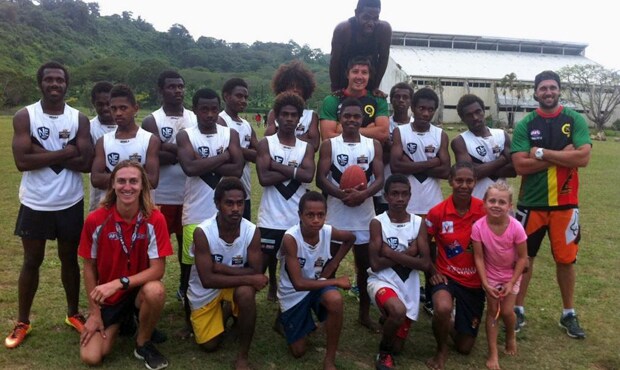 Nick Davis and Kurt Tippett took their AFL knowledge and experience into the Pacific during the off-season, when the pair travelled to Vanuatu last week.
Davis and Tippett, who visited the island nation to attend a Melbourne Cup Sportsman's Dinner in Port Vila, also made time to conduct a training session with the under-16 Vanuatu Volcanoes AFL side, who are preparing to take part in the South Pacific AFL Championships in Fiji next month.
Speaking to sydneyswans.com.au, Davis said when he and Tippett discovered that the team would be training during their time in Port Vila, they jumped at the opportunity to be involved.
"We found out that they were having a training session because they were getting ready for the South Pacific Championships, which are in Fiji at the start of December," Davis said.
"We saw the footy oval on our trips around the place earlier in the week, so we got down there on the Thursday and took their guys for a session."
Despite being located nearly 2,500km away from Sydney, Davis said he and Tippett did not feel like strangers when they arrived at the Volcanoes' training session.
He said the group had a good understanding of AFL, and were quite familiar with the Sydney Swans and some of the club's star players.
"Obviously not having much AFL exposure, it was interesting to see how much they knew about the game," Davis said.
"They get a few games over there every weekend, so it is something they were into over there.
"Obviously with the Swans having a fairly successful season, they were pretty familiar with our club and also with 'Tippo'.
"Everyone was asking about Buddy as well, so we were a pretty well-known club over there in Vanuatu, which was good."
While West Coast ruckman Nic Naitanui is of Fijian heritage, the AFL is yet to see a Vanuatuan athlete play the game at the highest level.
But after completing just one training session with the under-16 squad, Davis said he had high hopes for some of the boys in the side."Their skills were really good and there were probably three standouts over there who were really talented young players," he said.
"I think with a little bit more exposure, with the majority of the group being such natural athletes, that they could certainly catch up and play at a higher level pretty quickly."
Davis said he hoped to maintain involvement with the Vanuatu team, and would consider attending the South Pacific Championships if his pre-season schedule would allow it.
"I'd like to be able to go over, but it's obviously during the pre-season so it might not work out," he said.
"We are definitely going to try and get some boots over to the kids before the championships kick off.
"We also met a lot of the people (at the Melbourne Cup function) that we were pretty keen to help out, so they offered to help chip in for their flights to Fiji and any of the extra stuff that they need.
"We were really lucky that the people we met chipped in, and we're going to do as much as we can over the next few weeks to help them before they fly over.
"There are going to be some really good players over at that competition, and even if I can't go, I'd be really interested in going back because they were great kids and they really wanted to learn."
After spending time with the Volcanoes team, the pair also quickly became media stars in Port Vila, with Davis and Tippett earning their place on the back page of Vanuatu's daily newspaper.
"While we were there, we got a phone call from my mate saying the local radio station and the newspaper wanted to come down and do a bit of a story about us being in town," Davis said.
"We ended up getting on the back page of the Vanuatu newspaper, which made it interesting walking down the street or riding in the car for the rest of the week.
"The Vanuatu people were such friendly people, and walking around with Kurt, who is six-foot-seven, he made us pretty easy to spot!"