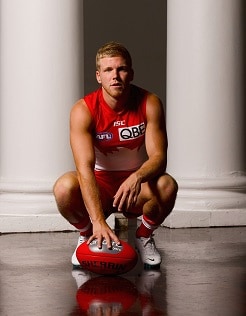 I want to improve my leadership and that means setting a good example with everything I do and helping to develop the younger guys.
Dan Hannebery
It is more than seven years since a fresh-faced and eagle-eyed Dan Hannebery arrived at the Sydney Swans, but he's never forgotten the early lessons he learned from the likes of Adam Goodes, Brett Kirk, Jarrad McVeigh and Ryan O'Keefe.
Even as a Year 12 student at Xavier College in Melbourne playing senior football before he'd moved full-time to the SCG, Hannebery watched the senior players' every move and hung on their every word.
"Those guys were great for me because they set such an incredible example with the way they went about things," he recalls.
"Their training standards and preparation were incredible. I learned pretty early you play as you train and I looked up to them and tried to follow in their footsteps."
Now a 24-year-old 120-gamer who has long graduated from the promising bracket, Hannebery is committed to doing for the Swans' new bunch of up-and-comers what Goodes, Kirk and Co did for him.
In particular Hannebery has identified five youngsters set to have a big impact in 2015.
"I think Harry Cunningham and Jake Lloyd will go up another gear, and Brandon Jack, Dean Towers and Dean Robinson are every chance to play regular senior football going on their training form," he forecast.
Cunningham and Lloyd are not exactly rookies, having played 25 and 21 games respectively last year, including all three finals.
Jack and Towers played eight and six senior games respectively, and Robinson has been elevated to the senior list after two years as a rookie.
"The way these guys have attacked the pre-season has been really good," Hannebery said.
"I've really enjoyed working with them. They've brought a lot of enthusiasm to the group and their training performance tells me they are going to have really good years and add to our playing depth."
With the retirement of O'Keefe and Lewis Roberts-Thomson and the exit of Nick Malceski, Hannebery has moved further up the Swans list in terms of seniority.
Only eight players in the 2015 playing ranks have played more games for the Swans - Adam Goodes (351), Jarrad McVeigh (244), Ted Richards (198), Heath Grundy (164), Kieren Jack (163), Craig Bird (131), Josh Kennedy (121) and Nick Smith (121).
Hannebery has also moved into the top half of the list in terms of age on the club's current playing list.
"I realise as a senior player I've got a responsibility to set an example just like the older guys did for me when I started out," he said.
"I want to improve my leadership and that means setting a good example with everything I do and helping to develop the younger guys.
"I think focussing on that and paying attention to all the little things as I've tried to do will also help my game, too."
Hannebery has worked hard and efficiently over the summer, and is committed to improving on what he described as an "up and down" 2014 season.
"We started slowly – as I did – and then got ourselves into a good position, but to finish the way we did was very disappointing," he said.
"The fact that we were so clearly outplayed in the biggest game of the year was hard to take and it took a while to get over it. I probably over-analysed things a bit much.
"But what's done is done, and all we could do as a group was commit to making sure we came back for the start of pre-season in good shape, and work really hard to give ourselves the best possible chance of having a good year."
A mid-season ankle injury restricted Hannebery to 19 of a possible 25 games last season after he'd played 94 of 98 in 2010-13.
Accordingly, having finished 7th-10th-4th in the B&F in 2011-12-13 after winning the AFL Rising Star Award in 2010 he slipped outside the top 10 in the 2014 Swans B&F.
He's committed to turning things around in 2015, and after a "fantastic" off-season trip to Europe has enjoyed a first-rate pre-season.
Hannebery was a second round selection – pick 30 overall - in a 2009 National Draft headed by Melbourne's Jack Watts, West Coast's Nic Naitanui, Fremantle's Stephen Hill, Port Adelaide's Hamish Hartlett and Essendon's Michael Hurley.
He was third among the entire Class of '09 to play 100 games, behind only Hill and Collingwood's Steele Sidebottom, and despite his first serious injury last year still ranks third behind Hill and Sidebottom, who have each played 128 games.
Hannebery expects few changes to his role in 2015 and insists he is comfortable with whatever role best suits the team's needs.
"It's important from a team perspective to have good flexibility. We'll look to rotate more guys through the midfield which is a good thing. The more players we have who can play in a variety of positions the better."
Hanneberry will also continue his journey towards becoming the most capped No.4 in Swans history.
With five games this year he'll move to outright second spot on the list, ahead of 1946-47-50 South Melbourne B&F winner and Team of the Century team member William 'Bill' Williams, a goal-kicking rover who played 124 games in No.4 from 1945-51.
That will leave only Ben Mathews ahead of him. Matthews, now on the coaching staff at Melbourne after a stint at the Gold Coast, finished with 155 games in the No.4 jumper after he played his first 43 games in No.36.
Make sure you don't miss any of the action this season by joining up as a Swans member for 2015 today!