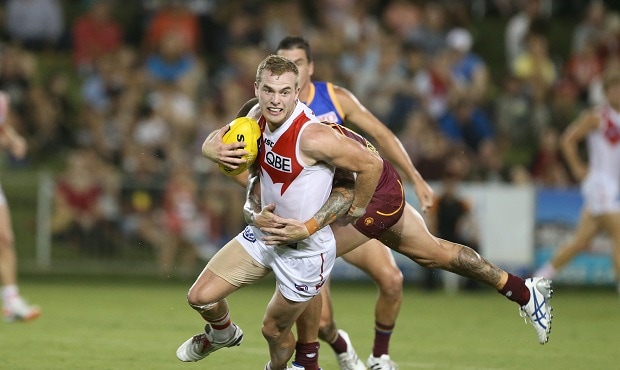 The Sydney Swans next two NAB Challenge matches will provide an opportunity for the club's young players to push for round one selection.
The Swans are expected to welcome back some senior players to the team for this week's second NAB Challenge match against Fremantle at Drummoyne Oval.
Longmire said the side for the club's first match of the home and away season was still far from settled with an exciting opportunity for a senior game presented to the club's young players.
"There are still spots to fill, once again this week we will get more players back into the team and then hopefully the week after will be the same as well," Longmire said at the 2015 Season Launch.
"There are spots up for grabs which is the way it is at this time of year, you need to make sure you grab the opportunities with both hands."
"Our players need to hit the season in good form and that is what we will try and do this week and next week when we play GWS."
Adam Goodes, Lance Franklin, Kurt Tippett, Jarrad McVeigh, Ted Richards all missed the club's opening NAB Challenge match against the Lions.
QBE Sydney Swans Academy recruits Isaac Heeney and Jack Hiscox both impressed during the loss to the Lions in their first competitive hit out for the club.
Longmire said it was great to see the club's academy program playing such an active role in the development of football in New South Wales.
"The academy is one of the most important and quality things I have seen during my time in football," Longmire said.
"The development and opportunity they have not only with us at the Sydney Swans but in strengthening community football, school football and school coaches is important."
"We have four kids from our academy on our list from last year and we think that some of them will certainly play some senior football."
"I am hoping that over the coming years we can see many players coming through the Sydney Swans academy with most of them playing for the Sydney Swans but also getting opportunities elsewhere."