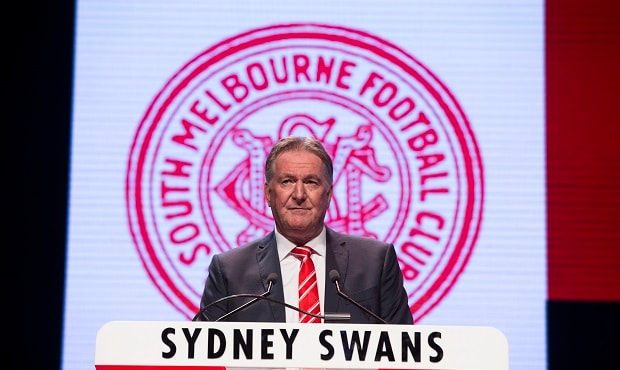 Sydney Swans Chief Executive Andrew Ireland has agreed to extend his tenure at the Club until at least the end of the 2018 season.
Speaking at the Chairman's Function, ahead of the Swans Indigenous Round clash with Carlton, Swans Chairman Andrew Pridham told guests that the Board had extended Ireland's tenure as CEO, whilst also ratifying his immediate appointment to the Swans Board.
To reflect the new role, Ireland's new title will be Chief Executive Officer and Managing Director of the Sydney Swans.
Chairman Andrew Pridham said the Club was delighted to have Ireland re-commit to the Club.
"Since taking the reins as CEO in 2010, the Club has gone from strength to strength under Andrew's guidance," he said.
"He has overseen a strong and successful football program, along with outstanding growth in the commercial areas of the Club.
"In his time as CEO, the Club has played in five consecutive finals series, two grand finals and of course, the 2012 premiership. Added to that has been the outstanding development of the QBE Sydney Swans Academy which is playing a vital role in the development of the code through New South Wales.
"Off the field, the Club has recorded four consecutive years of profitability and membership has grown in the vicinity of 60 percent to a record of over 47,000 so far in 2015.
"With Andrew at the helm, the Club is in as strong a position as it has ever been, and we are thrilled that someone of his calibre will continue to guide the club as our chief executive, and now also as a board member," Pridham said.
Ireland joined the Swans in 2002, to head up football operations and became CEO at the start of 2010. From 1990-2001 he was CEO of the Brisbane Bears and then the Brisbane Lions