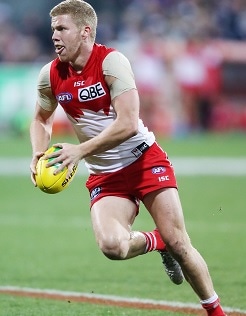 Swans midfielder Dan Hannebery has stormed home to win the AFL Coaches Association Champion Player of the Year Award.
Needing seven votes before Round 23 to pinch the prize from heavy favourite in Fremantle's Nat Fyfe (100 votes overall), Hannebery gathered 32 disposals in a performance hard for coaches John Longmire and Rodney Eade to ignore.
Hannebery's standout display against Gold Coast, including nine clearances and a goal, earned exactly seven votes from Longmire and Eade handing the 24-year-old midfielder a narrow one-vote win (101).
"I was challenged at the end of last season to come back in good condition (because) I'd probably play a bit more inside as opposed to just wing," Hannebery told Fox Footy.
"I made a commitment to really make the most of that six weeks before we got back and come back in reasonable shape.
"That's half the battle. If you come back in reasonable shape then you can just get on with training and look to improve.
"(The award) is something you do hold in high regard because you respect the coaches and they're extremely knowledgeable people who know a lot about the game."
In another triumph for the Swans' midfield contingent, Josh Kennedy sealed third place (87) after earning five votes for his 31 possessions and two goals against the Suns.
It was the 10th consecutive match Kennedy had collected 30+ touches.
Tom Mitchell (9), Sam Reid (7) and Kurt Tippett (1) rounded out the Swans' vote getters for Round 23.
Hannebery's overall win is impressive given Fyfe sat on top of the leaderboard all season, as early as the opening round when the Dockers star earned the full 10 votes.
Fyfe then went on to win votes in 13 consecutive weeks, including six perfect 10's, to jump out to what many considered an unassailable lead over Hannebery who eventually wrestling his way into second spot.
In an interrupted back end of the season, Fyfe failed to poll in his next five matches while four weeks were missed through injury which left the door ajar for Hannebery to pounce.
And that's exactly what happened with the 142-gamer polling in three of the final six rounds to seal the win.
See below for the complete list of Round 23 vote getters, the final leaderboard and a round by round summary of how the Swans fared during the 2015.
Round 23 – Swans v Suns
9 Tom Mitchell (Sydney)
7 Dan Hannebery (Sydney)
7 Sam Reid (Sydney)
5 Josh Kennedy (Sydney)
1 Kade Kolodjashnij (Gold Coast)
1 Kurt Tippett (Sydney)
Final Leaderboard
101 Dan Hannebery (Sydney)
100 Nat Fyfe (Fremantle)
87 Josh Kennedy (Sydney)
75 Matt Priddis (West Coast)
74 Andrew Gaff (West Coast)
73 Todd Goldstein (North Melbourne)
73 David Mundy (Fremantle)
69 Sam Mitchell (Hawthorn)
67 Scott Pendlebury (Collingwood)
65 Patrick Dangerfield (Adelaide)
Round by Round Voting
R1 v Bombers - 8 Parker (Syd), 7 K. Jack (Syd), 6 Kennedy (Syd), 5 Hannebery (Syd), 2 Hurley (Ess), 1 Franklin (Syd), 1 Melksham (Ess)
R2 v Power - 10 Kennedy (Syd), 7 K. Jack (Syd), 6 Hannebery (Syd), 5 Rampe (Syd), 1 Bird (Syd), 1 McVeigh (Syd)
R3 v Giants - 9 Franklin (Syd), 9 Hannebery (Syd), 6 Whitfield (GWS), 2 Bird (Syd), 2 Heeney (Syd), 2 Smith (GWS)
R4 v Dockers - 10 Fyfe (Frem), 7 McPharlin (Frem), 4 Johnson (Frem), 3 Reid (Syd), 2 Hannebery (Syd), 2 Lloyd (Syd), 2 Sandilands (Frem)
R5 v Bulldogs - 9 Picken (WB), 8 Hannebery (Syd), 7 Murphy (WB), 2 Bontempelli (WB), 2 Pyke (Syd), 1 Dahlhaus (WB), 1 Wood (WB)
R6 v Demons - 10 Kennedy (Syd), 6 McDonald (Melb), 4 K. Jack (Syd), 3 McVeigh (Syd), 3 Parker (Syd), 2 Jetta (Syd), 2 Tippett (Syd)
R7 v Cats - 10 Parker (Syd), 6 Franklin (Syd), 6 Hannebery (Syd), 4 Mitchell (Syd), 3 Kennedy (Syd), 1 Jetta (Syd)
R8 v Hawks - 10 Hannebery (Syd), 6 Parker (Syd), 4 Rioli (Haw), 3 Mitchell (Haw), 3 Reid (Syd), 2 Frawley (Haw), 2 McVeigh (Syd)
R9 v Blues - 10 Franklin (Syd), 6 K. Jack (Syd), 5 Hannebery (Syd), 5 Jetta (Syd), 3 Mitchell (Syd), 1 Rampe (Syd)
R10 v Suns - 10 Hannebery (Syd), 7 McVeigh (Syd), 6 Rampe (Syd), 5 Jetta (Syd), 1 Lynch (GCS), 1 Mitchell (Syd)
R11 v Roos - 8 Goldstein (NM), 8 Parker (Syd), 7 McVeigh (Syd), 3 Franklin (Syd), 2 Jetta (Syd), 2 Rampe (Syd)
R12 v Bye
R13 v Tigers - 10 Riewoldt (Rich), 7 Cotchin (Rich), 6 Rance (Rich), 4 Miles (Rich), 2 Parker (Syd), 1 Rohan (Syd)
R14 v Power -
R15 v Lions - 10 Kennedy (Syd), 7 Zorko (Bris), 6 Hannebery (Syd), 4 D. Beams (Bris), 3 Tippett (Syd)
R16 v Hawks - 9 Rioli (Haw), 6 Gunston (Haw), 5 Roughead (Haw), 4 Birchall (Haw), 2 Breust (Haw), 2 Hodge (Haw), 1 Lake (Haw), 1 Mitchell (Haw)
R17 v Eagles - 10 Priddis (WCE), 6 LeCras (WCE), 6 Sheppard (WCE), 3 Naitanui (WCE), 3 Sinclair (WCE), 1 Gaff (WCE), 1 Jetta (Syd)
R18 v Crows - 10 Hannebery (Syd), 8 McVeigh (Syd), 5 Tippett (Syd), 4 Kennedy (Syd), 2 Mitchell (Syd), 1 Parker (Syd)
R19 v Cats - 10 Selwood (Geel), 4 Enright (Geel), 4 Motlop (Geel), 3 Guthrie (Geel), 3 Kennedy (Syd), 2 Blicavs (Geel), 2 Jetta (Syd), 2 Taylor (Geel)
R20 v Pies - 9 Mitchell (Syd), 8 Kennedy (Syd), 4 K. Jack (Syd), 4 Swan (Coll), 3 McVeigh (Syd), 2 Sidebottom (Coll)
R21 v Giants - 9 Tippett (Syd), 9 Kennedy (Syd), 3 Cunningham (Syd), 3 McVeigh (Syd), 2 Goodes (Syd), 2 K. Jack (Syd), 1 Reid (Syd), 1 H.Shaw (GWS)
R22 v Saints - 9 Hannebery (Syd), 9 Kennedy (Syd), 6 Grundy (Syd), 4 Tippett (Syd), 1 Mitchell (Syd), 1 Rampe (Syd)
R23 v Suns - 9 Mitchell (Syd), 7 Hannebery (Syd), 7 Reid (Syd), 5 Kennedy (Syd), 1 Kolodjashnij (GCS), 1 Tippett (Syd)