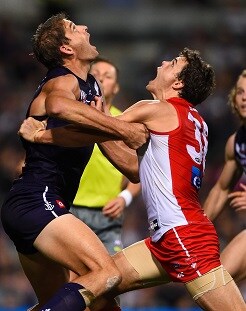 Mike Pyke's 2015 season by the numbers...
Games: 20
Goals: 4
Total Disposals: 164
- Kicks: 60
- Handballs: 104
- Marks: 39
Avg. Disposals: 8.2
Contested Possessions: 87
Uncontested Possessions: 77
Hit Outs: 519
Tackles: 49
Midfield coach Josh Francou says...
"In the first eight weeks of the season, Pykey was super for us. His ruck stuff was outstanding and his ability to impact the game, not so much by getting a hold of the footy, but his physical presence was invaluable to the group. It was really noticable from watching it on game day to watching it in the review and, by talking to the other midfielders, you gained a real sense just how much of an impact he was having. I know he struggled a little bit managing issues with his knee and his form did dip away a little bit. Missing a few games in the second half of the year, he never got back to the level he was playing at in the first eight weeks. Having said that, with Pykey you always know what you're going to get from him. He's serviceable week in, week out, and he always manages to get the job done."

Season highlight...
In a season hampered by recurring knee soreness, Mike Pyke's 2015 was below par but serviceable in a challenging year for the ruckman.
Pyke's first half of the season was sound, averaging 33 hit outs a game with his best performance coming in the Round 5 loss to the Western Bulldogs on a drizzly afternoon at the SCG.
The result may not have gone the Swans' way, but the Canadian battled admirably to compile a season-high 59 hit outs and lay a bone-crunching tackle in the narrow defeat.
Pyke's effort, combined with emerging counterpart in Kurt Tippett, to be among the league's leading ruck pairings until the 31-year-old succumbed to injury.
In another solid effort, Pyke returned 53 hit outs and laid five tackles in the Swans' Indigenous Round clash against Carlton.
VIDEO: Watch Mike Pyke's big tackle against the Western Bulldogs.
Through the lens...
Pyke goes one-on-one with former Swan and premiership teammate Shane Mumford earlier this season.
Pyke celebrates after kicking the first goal against Collingwood in Round 20.
A lot of publicity surrounded Pyke's tussle with fellow North American in St Kilda's Jason Holmes when the Swans battled with the Saints in Round 23.