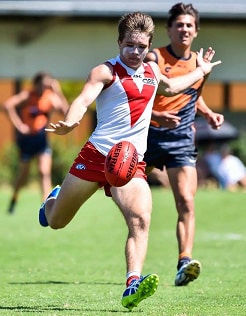 It was one of those games where the coach could easily write - all played well
Jared Crouch
The pendulum has swung in favour of the QBE Sydney Swans Academy's U/18s after defeating GWS Giants in the opening round of the 2016 Academy Series.
The Giants have dominated recent matches between the two academies, but that all changed at Sydney Olympic Park's Tom Willis Oval on Saturday.
Led by new coach Jared Crouch, the U/18s led at every change and withstood everything the hosts could throw at them to prevail by 44 points – 13.17 (95) to 7.9 (51).
Crouch, who took over as coach from Michael O'Loughlin last month, said the team gelled from the outset.
"We went out there with a simple game plan: to represent the club well and play a good style of Swans footy. I thought the boys did that," Crouch said.
"They had a crack and played well for this time of the year. There's still a lot of things the boys can improve on and, as coaches, that's the next step.
"Part of football is enjoying the win but it's back to work for us, you want to keep working hard and keep developing.
"In two weeks we've got another challenge and hopefully we'll be up for it."
Midfielder Max Lower, who travelled from Port Macquarie for the clash, was judged best afield in the win, while Ben Davis (brother of draftee Abe Davis) and Nathan Cooper finished with four goals apiece in a brilliant display by the two key forwards.
"It was one of those games where the coach could easily write 'all played well'," Crouch added.
"The guys that have been training with the senior team, they've recently had the experience of training through an AFL pre-season, so it was really pleasing to see those guys play well.
"For others, there were a lot of guys who played well right across the park."
Both the U/18s and U/16s battled it out in game one of the 2016 Academy Series against the Giants, a chain of three matches that will have a big say in the makeup of this year's NSW/ACT representative sides.
GALLERY: Check out some of the best photos from Saturday's games here
The U/16s, led by long-time coach Mark Drinkwater, were not as fortunate.
Despite a gallant performance the side went down by 22 points – 9.8 (62) to 12.12 (84).
Nick Blakey, son of assistant coach and AFL legend John, starred across centre half-forward, while Kempsey duo Shayden Close and Chris Holton also played well.
The two academies will face off again at Lakeside Oval on Saturday, March 19.
Under 18s
QBE Sydney Swans Academy 13.17 (95)
UWS Giants Academy 7.9 (51)
Goals - Ben Davis, Nathan Cooper 4, Jake Brown 2, Max Lower, Callum McFadden, Eli Prescott 1
Best - Max Lower, Callum McFadden, Ben Davis, Nathan Cooper, Jake Brown, Will Gowers, Jack Hardman, Harry Carr
Under 16s
QBE Sydney Swans Academy 9.8 (62)
GWS Giants Academy 12.12 (84)
Goals - Shaydan Close 3, Nick Blakey 2, Rory Barkley, Cooper Kilpatrick, Fred Tricks 1
Best - Shaydan Close, Chris Holten, Johnny Pawle, Christian Loone, Nick Blakey, Jack Brasher, Fred Tricks