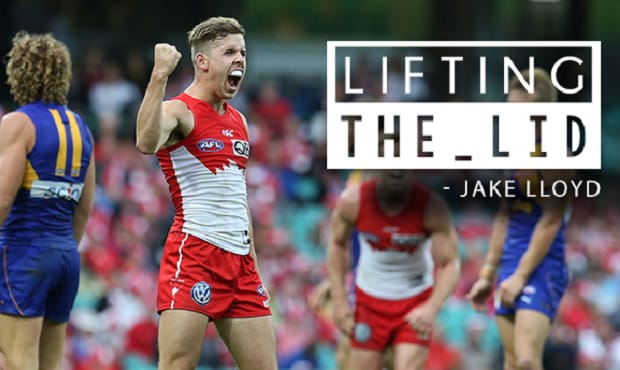 Jake Lloyd sits on the banks of the Murray River, well-rested and clear of mind, surrounded by family and friends.
It's February in Echuca, the summer slog is done and another season is nigh. But he's not thinking about football. He doesn't allow himself to. Not just yet.
Auntie Margie is being everyone's favourite host, cousin Jett floats around in the ski tube tied to the family's houseboat while cousin Sophie is taking selfies with her favourite Swan to share on Instagram.
Lloyd takes it all in. He couldn't think of anywhere else he'd rather be.
"It's a great spot. I love getting back there, getting away from Sydney and footy and just relaxing for a while," he said. "It's a good outlet for me. You don't have to worry about much."
For the up-and-coming midfielder, this is summer well spent. Horsham may be home, Sydney his home away from home, but Echuca is his paradise.
"I've been going for as long as I can remember," he added. "It's obviously a bit tough now with footy, but any chance I get during my breaks I'm there."
Jake Lloyd's little cousin Jett (right) in the rooms with his favourite Swan. Photo: Jake Lloyd

Echuca is a small but vibrant community roughly two and a half hours north of Melbourne where Victoria borders NSW. It's a haven for holidaymakers searching for some that perfect campsite along the Murray and some well-earned solitude.
The population remains pretty steady over the winter, doubles during the summer, then is blown out of the water when the Southern 80 comes to town. In recent years Lloyd has been among the thousands of spectators who make the annual pilgrimage to watch the 'Southern Hemisphere's biggest ski race'.
The roar of speedboat engines disrupts its usually peaceful surrounds. You can hear the drama from the highway bypassing town where inbound traffic can sometimes rival the crawl along Sydney's Parramatta Rd.
Lloyd's clan are parked at their usual spot, out the back of his Auntie's place. It offers a great vantage point. You're at the end of a rare straight which then leads into one of the 120 bends which snake along the 80km stretch between the starter's gun at Torrumbarry Weir and the chequered flag at Victoria Park Boat Ramp.
Hundreds of boats, split over multiple classes, take to the water for two crazy days of racing. The superclass – the supreme class – is the fitting finale.
Lloyd's cousin, Lloyd Woolman, skis the superclass. He's a former junior world champion and was ranked as high as second in the world for his age group for a couple of years and "an absolute gun" according to those in the know.
He made the jump to the top class two years ago. Lloyd wouldn't have missed it for the world: "It's amazing watching him do his thing."
Like most sports, ski racing has its risks. Unlike most sports is that ski racing flirts with considerable danger given these machines and the two skiers in tow can often reach speeds tipping 200km/h.
The spray from the boat's hull, a superclass skier once described, "feels like razor blades on the skin" while the water underneath might as well be concrete if one takes a tumble at such head rattling speeds.
Then there's other factors like a simple mechanical failure or an error of judgement from the driver, never mind the undetected logs which can sometimes go undetected and lurk under the river's murky surface.
Lloyd this year was lucky enough to watch Woolman's race from the passenger seat of a helicopter, although it wasn't just the flight that offered the thrill.
Lloyd Woolman (left), Jake's cousin, in action during the Southern 80 ski race. Photo: Facebook
"It can be pretty scary," he said of watching his cousin compete. "You're hanging on every corner he goes around, just praying he holds on and gets through it.
"He fell off a couple of years ago. It was only 100m upstream from us. My heart sank. It wasn't a good feeling. Thankfully a few moments later we saw him swimming to the bank and everyone breathed a little sigh of relief.
"He works hard to prepare for what he does. The same goes for us. We do all the work in the preseason and do everything to prepare and get ourselves right to play footy. There's just a little more on the line for him. A little mistake can be pretty big.
"I have so much respect for what those guys do and what he does."
Ski racing is simply a way of life for Lloyd's extended family.
Six-year-old Jett is in love with the sport and races alongside his fellow 'tadpoles' while Sophie, who was born with down syndrome, raced in the disabled class a few years ago.
"Both were pretty special moments for everyone," Lloyd added.
In spite of the risks and no matter where or when the next race is, you'd struggle to keep them away.
Probably just as much as you'd struggle keeping Lloyd away from the Murray's blissful banks and his own little paradise.