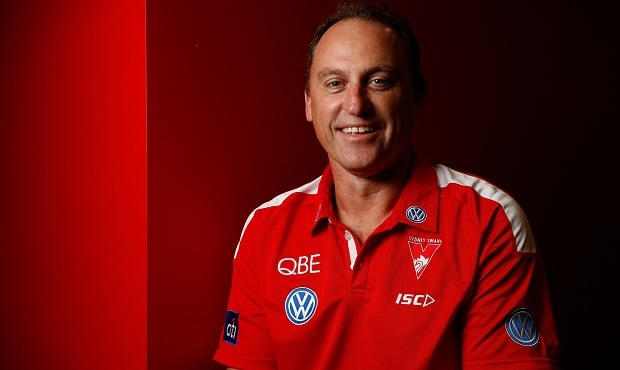 Sydney Swans senior coach John Longmire has recommitted to the Club for the long term, signing a three-year contract extension to keep him at the Swans until at least the end of 2020.
The premiership-winning coach took over as Sydney's senior coach in 2011, after joining the club as an assistant in 2002. He has taken the Swans to the finals every year since taking charge. Under Longmire's watch the Swans won the 2012 AFL Premiership and played in the 2014 AFL Grand Final.
Sydney Swans General Manager of Football Tom Harley said it's terrific to have Longmire's contract locked away.
"John's existing agreement had been due to expire at the end of 2017, so it's terrific to finalise a new deal now to provide us with stability going forward," Harley said.
"There's no question that John's leadership has been a key ingredient in our team's performance – he drives high standards right across the football club.
"Already this season we have blooded six AFL debutants. We firmly believe John is the best person to guide our young players and coach our team, as our list and the demands of the competition continue to evolve."
Sydney Swans Chairman Andrew Pridham said Longmire has demonstrated outstanding coaching credentials.
"John's remarkable record as both a player and coach speaks for itself – he is highly regarded and much respected by everyone at the Swans, and indeed, right across the AFL," Pridham said.
"What John brings to our team is a tremendous work ethic, strong values and a genuine care for those he works with. His vision for our football club has already yielded great results and we look forward to him leading our team to future success."
The new deal will extend Longmire's tenure as senior coach to at least 10 seasons.