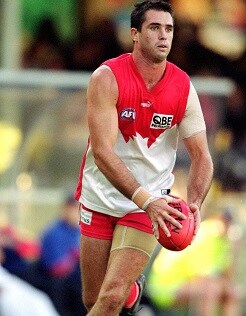 The Sydney Swans look set to enter the National Draft with their second selection coming at pick 17.

Defender Rowan Warfe was taken at pick 17 back in 1996 on the only occasion the Club has held that selection in the National Draft.
Plagued by injury for much of his career, Warfe played 84 games across eight seasons before retiring in 2004.

Geelong premiership duo James Kelly and Harry Taylor headline the star selections taken with pick 17 in drafts gone by.
The Cats have held this selection on seven occasions since the inception of the National Draft in 1986.
Among those taken by the Cats with selection 17 include Daniel Menzel, Peter Street and Carl Steinfort.

Western Bulldogs premiership player Clay Smith is the most recent success story from those taken with pick 17, after becoming an integral member of the Dogs premiership side.
See below a full list of those taken with selection 17 in the National Draft.
2015 – Tom Doedee (Adelaide)
2014 – Kyle Langford (Essendon)
2013 – Michael Apeness (Fremantle)
2012 – Josh Simpson (Fremantle)
2011 – Clay Smith (Western Bulldogs)
2010 – Shaun Atley (North Melbourne)
2009 – Daniel Menzel (Geelong)
2008 – Sam Blease (Melbourne)
2007 – Harry Taylor (Geelong)
2006 – Shaun Hampson (Carlton)
2005 – Darren Pfeiffer (Adelaide)
2004 – Andrew McQualter (St Kilda)
2003 – Billy Morrison (Collingwood)
2002 – Cameron Faulkner (Western Bulldogs)
2001 – James Kelly (Geelong)
2000 – James Davies (Essendon)
1999 – Ezra Bray (Geelong)
1998 – Peter Street (Geelong)
1997 – Lance Picioane (Adelaide)
1996 – Rowan Warfe (Sydney)
1995 – Scott Welsh (North Melbourne)
1994 – Carl Steinfort (Geelong)
1993 – Angelo Lekkas (Hawthorn)
1992 – Kym Koster (Western Bulldogs)
1991 – Anthony Cole (Sydney Swans)
1990 – Brendan Hehir (Geelong)
1989 – Gilbert McAdam (St Kilda)
1988 – Brad Edwards (Fitzroy)
1987 – Chris Waterson (Fitzroy)
1986 – Trent Nichols (Richmond)