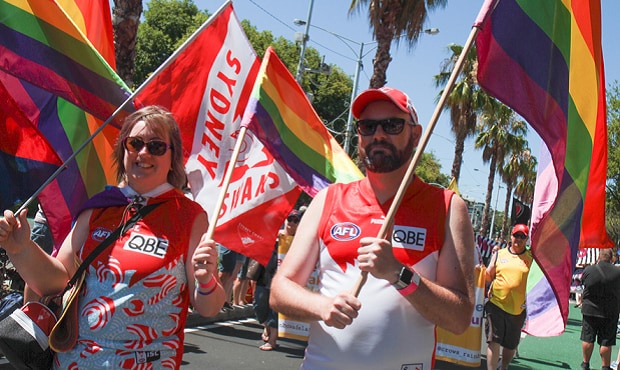 Several members of the Rainbow Swans, the Club's official LGBTI Supporter Group, took to the streets of Melbourne on Sunday as part of the Midsumma Pride March – a celebration of pride and diversity.
Joined by supporters of other AFL teams, the Rainbow Swans marched proudly down Fitzroy Street in their Swans gear, waving flags and enjoying the party.
"It was great to meet some of the Melbourne-based LGBTI Swans fans, and LGBTI supporter groups from a number of other teams" said Rainbow Swans member Adrian Hempel, who travelled from Sydney to take part in this year's march.
"We heard quite a few in the crowd calling out their support for the Swans as we marched through St Kilda".
The Rainbow Swans were officially announced as the official LGBTI supporters group of the Sydney Swans in 2016 and their online community and presence on match day continues to grow.
Keep an eye out for their new website coming soon in 2017.
To learn more about the Rainbow Swans click here.