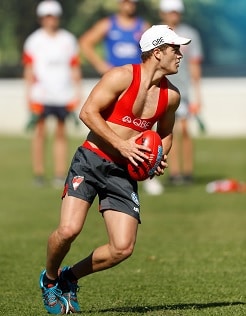 With just two weeks until the first JLT Community Series match against North Melbourne in Coffs Harbour we provide an update on the status of some of our injured players.
A number of bright young stars will be on display in Friday's intra-club match at Henson Park however Lance Franklin, Sam Naismith and Luke Parker have already been ruled out of the match.
Find below a HCF injury update with just a few weeks left of pre-season training.
Tom Papley (knee, 7 weeks): On the long-term injury list and no chance to play until at least round two.
Jeremy Laidler (left elbow, 3-4 weeks): Will struggle to see any action in the JLT Community Series after his surgery in late January.
Luke Parker (left knee, 1-2 weeks): The star midfielder should be back in full training in the next fortnight but is unlikely to be risked until at least the second or third game of the pre-season competition in March.
Alex Johnson (knee/hamstring, 2-3 weeks): Slowly making progress after a minor hamstring strain halted his recovery from a fifth knee reconstruction, and should be back with the main group in the next month with a bit of luck.
Dean Towers (appendix, 2 weeks): No hope of playing in this week's intra-club but a chance for game one of the JLT Community Series.
Callum Sinclair (knee, 2 weeks): The big man had knee issues last year but should be fit to play some footy during the pre-season competition.
Others
Star forward Lance Franklin and ruckman Sam Naismith both had surgery on their left shoulders and are back training with the main group in non-contact work. Naismith is further behind as he had a plate inserted during his reconstruction, which required removal after the off-season break.