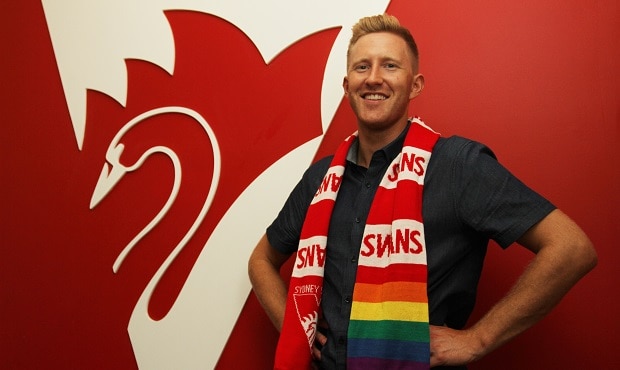 To be visible and proactive in being accepting, regardless of one's sexuality, and embracing diversity is definitely the way to go.
Jason Ball
The Sydney Swans are accustomed to having a Jason Ball walking the hallways.
On Friday, however, it wasn't the 2005 premiership ruckman and former director of eight years who called by the SCG. Rather, it was LGBTI advocate and public speaker Jason Ball who ticked a visit to the famous venue off his bucket list.
Funnily enough he's often mistaken for the 193-game former Eagle and Swan, countless times he's been introduced to crowds and school kids as such.
In reverse, the now AFL commissioner is often called and congratulated for his passionate advocacy for the LGBTI (Lesbian, Gay, Bisexual, Transgender and Intersex) community.
"It's a funny cycle we're in," the younger Ball said, who's in Sydney for this weekend's Mardi Gras festival.
"Many times I've had to kindly tell people I'm not the man they're after, and vice-versa.
"Ironically I've never met him. I'd love to one day – he's the reason I wanted to barrack for West Coast as a kid. I thought it was pretty awesome an AFL player had the same name as me."
The Jason Ball who visited the SCG this week is widely known as being the first footballer from any level to openly come out, with that turning point coming in 2012 when he was playing for his local club Yarra Glen in Melbourne.
As a by-product of his courage, Ball has since become a national figurehead for tackling homophobia in sport and an ambassador for beyondblue. The role has seen him address thousands of people across schools, workplaces and sporting clubs all over Australia.
Ball helped spearhead last year's inaugural Pride Game between the Sydney and St Kilda, a watershed round which the "speaker, writer, educator" believes could become a beacon for an AFL-listed player who may want to follow the same path.
"(The game) is a powerful example and a symbol of acceptance coming from a place where you'd expect it the least – in the world of AFL," he explained.
"Some people might say that sexuality is not relevant in sport, and so the issue should not talked about.
"However, the research shows that many LGBTI people do not feel safe or welcome at the footy.
"So to be visible and proactive in being accepting, regardless of one's sexuality, and embracing sexuality is definitely the way to go."
Ball will be front and centre for the second Pride Game, in Round 18 at the SCG, to reinforce his message. He is proud of what the Swans and Saints are doing to help promote inclusion and diversity, but says more can be done in a broader sense to use sport as a means to drive cultural change.
"Historically, many LGBTI people have chosen not to play sport because it has been so often associated with homophobia," he added.
"Sport is a great thing for a person's mental health, whether it's the physical activity from playing or social aspects, there are a lot of benefits. To be excluded from that just further compounds the negative health outcomes they experience.
"In the same way sport has made a lot of progress and has been a leader in tackling racism, Indigenous reconciliation and engaging with multicultural communities, I think the same thing can be done in reaching out to the LGBTI community."
The Sydney Swans are exploring a number of ways to promote inclusion and diversity and this year the Club's official LGBTI supporter group, the Rainbow Swans, launched their first official membership – a move Ball has applauded.
"They are going to drive a whole new generation of Swans fans at Sydney," Ball added.
"They go to games as a group, and when you've got people going to their first game they might want to go with people who are like them, people they can relate to as well as feel safe with.
"It's a really special thing and should be embraced by all clubs."
Ball will be marching with Pride in Sport during Saturday's Mardi Gras Parade, Australia's first and only sporting inclusion program with a focus on the LGBTI community.
For more information on Rainbow Swans memberships, click here.
Specially designed Pride Game scarves are also now available online at the Swan Shop - click here to purchase yours today!