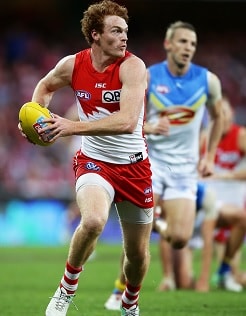 Over the past month of football Gary Rohan's form had been fostering week by week, like a pot of water on an open flame simmering under the surface of the Sydney Swans' resurgence.
It was only a matter of time before it'd reach boiling point.
He enjoyed a solid return from injury against Richmond, kicking the sealer in the dying seconds before backing up to be the match-winner against Essendon.
He didn't impact the scoreboard against Melbourne but his influence was still profound, tallying 16 disposals, eight marks and six inside 50s.
In each of those performances Rohan was at his explosive best, gave his side an edge and did some small but brilliant things which bought others into play whether it was a chase, tackle or assist.
In Saturday's win against Gold Coast, Rohan produced what many commentators argued as the best game of his 87-match career.
He finished with a personal-best five goals in a night out which included 16 disposals, nine marks, eight inside 50s, 12 score involvements and two direct goal assists.
"It was great, fantastic (to see)," Longmire said post match.
"He's very hard to contain when he's running around like that because of his speed and his hardness, but he was also really composed tonight and that made the reward for his efforts so much greater."
His teammates echoed the coach's sentiments.
"He's definitely has a solid four weeks of football, he's red-hot at the moment," Franklin said.
"He had the forward 50 to himself, able to kick five, probably should have kicked six, so it was a great effort by him."
Dane Rampe, who's spent the past five seasons playing alongside 'Gaz', says the most heart-warming thing was seeing his often injury-prone teammate string some strong weeks of trouble-free football together.
Rohan is reaping the rewards for his hard work on track and the team's reaping the benefits of Rohan's form.
"I think belief is a big for him," Rampe added.
"He's showing he can have a genuine impact across the four quarters. It makes us a better team, he's electric up forward and he's becoming a massive headache for defenders."
Rampe will be keeping his fingers crossed, along with everyone else at the football club, that Rohan can keep that momentum going as the season reaches the business end.