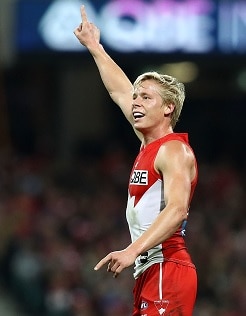 Sydney midfielder Isaac Heeney will celebrate his 50 game milestone in one of the biggest home and away matches of his career on Saturday night.
Sydney Derby XIII is a must-win for the Swans who sit in eighth position on the ladder thanks to a run of five-straight wins.
After a dream debut against Essendon in Round 1, 2015, in which he kicked the match-winning goal, Heeney has become a permanent fixture in the Swans' side.
"It has come around fairly quickly, I wouldn't have thought I would play my 50th game this quickly," Heeney said.

"It is a little milestone, but then I am aiming for 100 and then 150 after that so I am just aiming to play some good footy and continue to focus on week to week."
Heeney was a number of key players missing from the senior side during the early part of the season but refuted suggestions those injury worries were the sole reason behind their poor start.
The Swans were winless after six rounds and staring down the barrel of missing the finals for the first time in coach John Longmire's seven-year run, but now sit in eighth spot on the ladder after winning eight of their past nine games.
Heeney (glandular fever) was just one of several key Sydney players to make a delayed start to 2017, with Dane Rampe (broken arm), Jarrad McVeigh (calf), Gary Rohan (back/hamstring) and Tom Papley (knee) others to spend an extended time in the rehab group.
All five are now back and in good touch, but while most would think that the Swans' turnaround has coincided with the return of some senior personnel, Heeney said it would be a cop out for the club to blame injuries for the disastrous position they were in.
"There was no excuse for the form that we were in," he said.
"There [were] a few players out but you look at GWS, and they've had a heap out as well, but they still seem to perform.
"We've got a few back now and we feel like we've got our form back.
"The confidence in the group is right up there, it was just a matter of getting back to basics.
"We needed to tick all the little things off, 100 per cent of the time, so now we just need to bring that into this game."
Heeney was unavailable for the first four games of the season after he was bed ridden for weeks on end during the pre-season, a measure taken to ensure his glandular fever didn't turn into something far worse.
The 21-year-old said he risked losing a whole season of footy if his illness developed into chronic fatigue syndrome.
It was a small price to pay looking back, with the gifted Swan now an important cog of the team's midfield, averaging a career-high 22.2 possessions and five tackles in his 11 games.
"It was pretty worrying at first when people told me what could happen, so to be back in some decent form is pretty special, and it's exciting," he said.
"I just look to play my role week in week out, and there's a lot of players in good form at the moment.
"You look at Gary (Rohan), it's good to have him back and kicking goals, and when he's up and about he's pretty hard to stop."