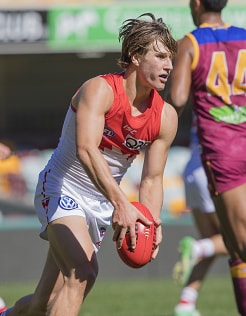 Sydney rookie Sam Fisher will have a second opportunity to create NEAFL history when he runs out for the Swans in Saturday's blockbuster Grand Final against Brisbane.
The 19-year-old Canberra product was part of the Giants side which beat Sydney in last year's decider, earning a slice of club history with their first piece of silverware.
With the Swans yet to win a NEAFL flag after three defeats in 2013, 2014 and 2016, Fisher now has the opportunity for a rare back-to-back premiership with two different clubs.
The Ainslie junior said he feels fortunate to have gained valuable finals experience in the NEAFL at such a young age ahead of what is shaping as a huge AFL/NEAFL double header at the SCG on Saturday night.
"Playing finals has definitely been massive for my development," he said.
"In finals, it goes to another level, and especially when you're playing against those AFL teams, it's a really high quality match and it helps you get to that next level.
"Not only that, it's great to have team success, because you often hear that it doesn't come around too often, playing in grand finals or even in finals series.
"I am very lucky to have played for two clubs that have had great success in the NEAFL over the last couple of years."

Fisher (front row, second from right) celebrates after winning last year's NEAFL Grand Final against his new club.
Fisher came through the AFL Canberra and GWS Academy ranks, making his NEAFL debut for Ainslie when he was 17.
He spent last season with the Canberra Demons and the Giants in the NEAFL, before being picked up by the Swans in the AFL Rookie Draft.
Fisher said he feels he's taken a step up in his development this season after a chaotic 2016 spent across senior level, academy and National Under-18 commitments.
"It was a bit of mayhem playing for four or five different teams last year, but I played a fair few games for the Giants and settled in and knew my role there," he said.
"The Grand Final was an unreal experience and good to play in such a high level game.
"I've been happy with how I've performed this year. I think I've taken a step up from last year, and obviously that's expected being a listed player.
"There are still areas I want to work on but overall I'm happy with how the year has gone."
Sydney dropped only two matches this year – both coming against Brisbane – with the latest coming in Round 19 when the Swans lost a thriller by 17 points.

Fisher has been in fine touch for the Sydney Swans in his first year as an AFL-listed player.

Fisher said it was an important loss in the context of the season and a reminder of the level of intensity required to win – a key focus for the side leading into Saturday's match.
"For us, it was more our intent, and we were a bit flat at the start of that last game against Brisbane. We let ourselves down at the start and it was pretty much impossible to come back," he said.
"We always pride ourselves on our energy and intensity around the ball, and I think we lacked that in that game and it definitely cost us.
"Hopefully we can get a good turn-out for the NEAFL game after the AFL. It's a massive match for the seniors this weekend, and if all goes to plan and we both get a win, the club is going to be ecstatic."
If the NEAFL's archives are correct, Fisher could become only the second player in the league's history to win two flags for two different clubs, following in the footsteps of Cheynee Stiller who first captained Brisbane to the 2012 Premiership before co-captaining Aspley (against Sydney) in 2014.
The 2017 NEAFL Grand Final kicks off at 7.45pm, following Saturday's AFL Elimination Final, and will be streamed live on NEAFL TV.