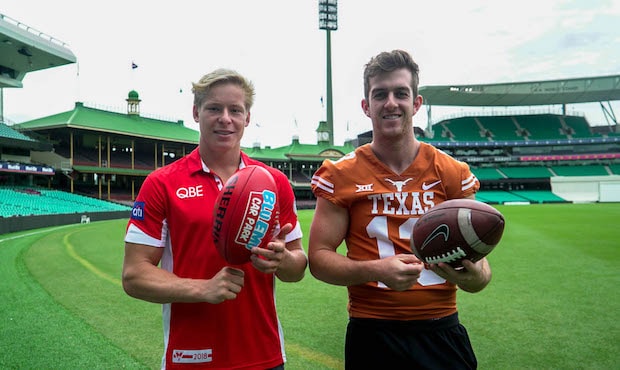 I talked to family, talked to friends, talked to coaches and mentors close to me, and it seemed right to give up my senior year and take on the NFL.
Michael Dickson
Once upon a time, the 2014 NEAFL Grand Final was the highlight of Michael Dickson's promising sporting career.
A member of the QBE Sydney Swans Academy, he was a top-up for the big game in which the Swans went down by two points against Aspley. Despite the result, Dickson has only fond memories.
And who could blame him? He earned the opportunity to play alongside future stars like Callum Mills and Isaac Heeney, as well as one of the best to pull on the red and white in Ryan O'Keefe.
Fast forward three years and that moment has been "punted" as his No. 1 highlight, in favour of a performance judged one of the best seen from any player in college football history.
You see, in 2015, the then 19-year-old moved to Melbourne to trial with Prokick Australia, a coaching program designed to help aspiring kickers and punters cross the Pacific crack American Football.
Tapes of Dickson consistently sending the foreign footy 50-60m caught the attention of the Texas Longhorns, the athletic program out of the University of Texas.
Before too long, Dickson was on his way to the United States with a scholarship in hand and the attention of the burnt orange community.
He made an immediate impression, as a freshman then as a sophomore, before stamping his authority in his junior year.
In front of nearly 68,000 people at Houston's NRG Stadium, Dickson led the Longhorns to a 33-16 victory over Missouri in the Texas Bowl.
"That was a great experience," he said during a now rare visit to the SCG.
"I knew going in that it would be my last game, as I announced in the lead up that it'd be my last.
"Being able to get out there and have a look around and thank all the fans … I got to go out there 11 times, which gave me plenty of opportunities to soak it all in.
"It was just unreal to get the win and to see my friends, who turned into brothers during the program, celebrating and so happy – it was the best feeling."

Heeney and Dickson mingle on the SCG.
Dickson's focus is on his studies, a requirement in order to retain his visa, but the upcoming NFL Draft isn't far from his mind either.
In the lead up to the Texas Bowl, Dickson broke protocol and nominated for the draft earlier than usual – a calculated risk on the back of his unrivalled season, with all signs pointing to the Sydney-raised sportsman becoming the 24th Australian to sign with an NFL team.
This past season, he won the Ray Guy Award as the best punter in the National Collegiate Athletic Association (NCAA) and was unanimously selected All-American with a 48.4 yard average (a Texas Longhorns record).
He also became just the second player in conference history to earn Big 12 Special Teams Player of the Year honour twice.
As well as taking home the trophy to Austin, Dickson won the Texas Bowl's MVP Award after sending 10 of his 11 punts inside the opposition's 15-yard line (four inside Missouri's five-yard line).
His numbers certainly stack up, which has given Dickson further confidence in the lead up to April's draft lottery.
"I talked to family, talked to friends, talked to coaches and mentors close to me, and it seemed right to give up my senior year and take on the NFL," he added.
"Putting my degree on the back-burner and giving up a year of something I love was a pretty tough decision, I love being a Longhorn and love everything about it.
"I feel like I've achieved all the goals I set for myself in college so the time's right to take on the next level."
If Dickson does land on an NFL list, he'll be looking at a possible million-dollar salary in his rookie season.
While that afternoon at Aspley over three years ago is still close to his heart, it's hard to not get caught up in his new sporting life.
"Looking back and seeing how far I've come it's unbelievable – I'm pretty proud," he said.