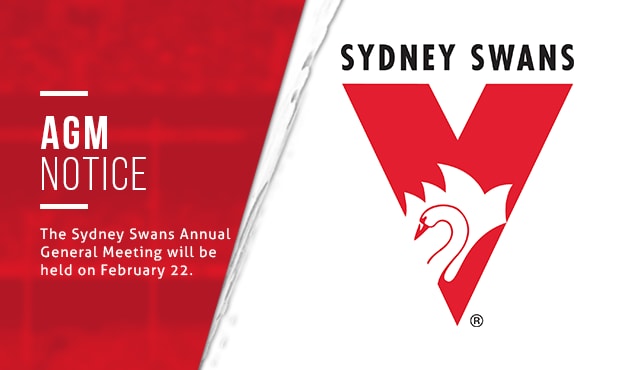 SYDNEY SWANS LIMITED
(est. 1874)
NOTICE OF 2018 ANNUAL GENERAL MEETING
The Sydney Swans Annual General Meeting will be held on Thursday 22 February, 2018 at 5.30pm in the Learning Centre at the Sydney Swans offices, SCG Light Tower 4, Driver Avenue, Moore Park.
Sydney Swans members are welcome to attend. A Member has the right to appoint a proxy and the proxy must be a Member of the Club or otherwise approved in writing by the Board.
Agenda
Chairman's welcome and address to members
2017 Annual Financial Report including the Directors' Report and Auditor's Report
Retirement and re- appointment of Non-Executive Directors
Football Update
General
Close
Members will have an opportunity to ask questions at the meeting.
Parking is available at The Entertainment Quarter, 122 Lang Road, Moore Park.
Refreshments will be served.
By order of the Board
Tim Laing
Company Secretary
23 January 2018