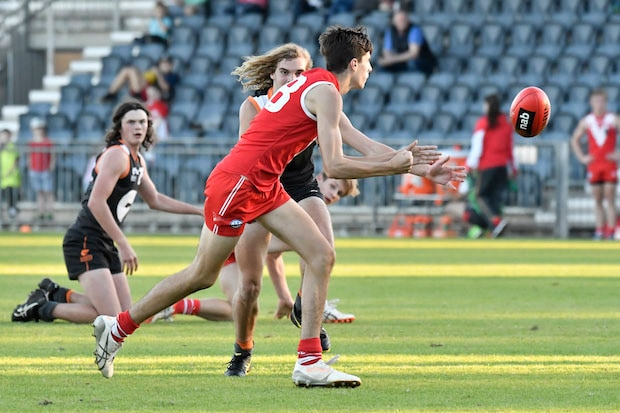 Aspiring young AFL players on the North Coast will benefit from training 'super sessions' to be held in Coffs Harbour as part of a revamped QBE Sydney Swans Academy program.
Last November, Coffs local and Swans Academy member Jake Brown, 19, became the first player from the region drafted to the AFL when picked up by the Sydney Swans in the rookie draft.
The Academy is hoping the revamped program will help more boys follow in Brown's footsteps in coming years.
Swans Academy member Ben Gibbeson, 16, who plays for the Coffs Harbour Breakers, says he and his mates have been inspired by Brown's achievements.
"All the boys here were rapt when Jake was drafted. Ever since I started playing I've looked up to him because he's a great player and great leader,'' Gibbeson said.
Gibbeson and other Academy members resume training in Coffs next Wednesday February 7, and he says he can't wait. "I really love being part of the Academy. This year I want to improve my skills further and become an all-round player capable of doing whatever the coaches ask,'' Gibbeson says.
This year the Coffs Harbour Academy squad will be joined every fortnight by Swans Academy members from Port Macquarie and Grafton.
Around 30 boys aged 11 to 17 are involved in the North Coast Academy at training hubs in Grafton, Coffs Harbour and Port Macquarie. Previously they trained in three separate groups in a bid to reduce travel times for boys and parents.
The revamped sessions will bring all three squads together once every two weeks under the guidance of newly appointed North Coast Academy head coach, Rod Mapleson.
Mapleson believes the new structure will benefit boys in the north coast region.
"The kids and parents are happy to travel every two weeks as they understand this is the best way to develop the boys,'' Mapleson said.
"It's a balance between small local sessions and the larger group squad. Getting together allows us to put the boys into training scenarios where there is more pressure, competing with each other to get the footy, and that helps them improve,'' he said.
Mapleson, who has had three sons in the Swans Academy, said the publicity surrounding Jake Brown has helped the sport in the north coast region. "Kids here can now see that if they keep playing there is a pathway to achieve the ultimate, they can see where they can get to.''
While Mapleson will head up the North Coast Academy, Dan Zacek and Adrian Ryan have been appointed head coaches in Grafton and Port Macquarie respectively.
Port Macquarie's Ryan, whose son Tom is in the Academy, says while there will be more travel this year, it's worth the effort.
"There are a number of good young AFL players here. If the kids are keen and want to take the opportunity, the Academy is giving them the chance to develop and improve,'' Ryan says.
The Academy is also looking to expand its numbers in the North Coast region this year, and will send staff to conduct talent search programs, with indigenous talent a key priority.