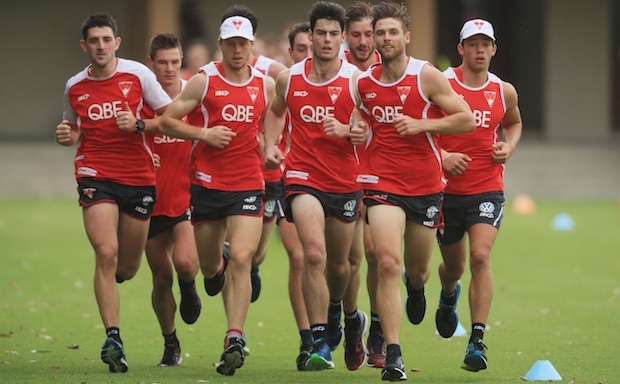 The Sydney Swans will be returning to Coffs Harbour for a pre-season training camp from February 13-16.

It will be the second time in as many weeks the Swans will be in Coffs following next week's Community Camp, which will see the team spread around the state.

There will be plenty of opportunities for Swans fans from the Mid North Coast to see the team in action while they're in town.

On super Wednesday (February 14), the Swans will have an open training session at C.ex Coffs International Stadium, visit kids at school, host an AFL clinic for the region's up-and-coming juniors, hold a community barbecue as well as a business function with Coffs Harbour City Council.

Swans vice-captain Luke Parker says the team's looking forward to returning to Coffs Harbour.

"We've been travelling to Coffs Harbour for a number of years now and we always enjoy our time up there," Parker said.

"It's always a great opportunity to get away together as a team ahead of the season proper and see all of our supporters from the region.

"With a lot of community activities planned, we hope to see as many supporters get along to the events as possible."

Swans supporters can get along to the following activities in Coffs Harbour:

Wednesday 14 February

8.30am-11am: Open Training Session
C.ex Coffs International Stadium, Stadium Drive, Coffs Harbour
With all players and coaches in attendance, the Swans will take to the training track as they fine-tune preparations for the upcoming season, including the inaugural AFLX tournament.

4pm-6pm: AFL Super Clinic
C.ex Coffs International Stadium, Stadium Drive, Coffs Harbour
Come along to the AFL Super Clinic to hone your footy skills, learn a few tricks and grab some pictures and autographs with the players. This event is open to girls and boys aged 5 to 12 years of age. Register now by clicking here.

6pm-7.30pm: Community BBQ
Jetty Foreshore on Jordan Esplanade
There will be no better way to unwind from a hard day's work than a barbecue with the Swans at the picturesque Jetty Foreshore. Come along to meet some players, have a kick of the footy, win some amazing prizes, grab a few autographs and kids can try out the new Volkswagen Swansfit session.